Since these exams can be more difficult than expected, especially if you underestimate the effort and preparation needed to achieve a high score, seeking external help is always recommended. You will be able to find various group courses and individual tutors in your region and online who can advise you on the right strategy to prepare for your English proficiency test. However, expert guidance should also be coupled with intensive self-study and practice.
Get used to the test structure
As mentioned earlier, different tests have different formats. The IELTS is a pen-and-paper test, while TOEFL and PTE Academic, for example, are taken on a computer. Although all English proficiency exams will assess your full set of skills – reading, writing, speaking, listening comprehension, and knowledge of vocabulary and grammar – the order of the sections, as well as their structure, may also differ. In any case, if you have never taken a proficiency test before, you are likely to find out that it is not comparable to an ordinary school test.
Even the British Council – one of the organisations which jointly administer the IELTS, points out:
Some native English speakers are surprised to find that they score lower grades than non-native English speakers who have only been studying English for a few years.
This is why it is so important to feel comfortable with the format and structure of the exam you have chosen to sit even if you are fluent in the language. Although attending preparation courses will certainly help you get acquainted with important exam details, it will be of great use to read up on the topic yourself.
Practise your time management skills
It is only natural that test takers have a limited time to complete all required sections of an exam – nothing new there. However, many people, especially students who are not experienced in academic test taking, find it overwhelming and even exhausting to read and write in a foreign language while keeping their concentration. The IELTS takes two hours and 45 minutes to complete, while the internet-based TOEFL can take "a total of about four and a half hours to complete, including check-in." Plus, some of us inevitably get nervous just from the realisation that the time has come for the actual exam and it is no longer just practice.
Fortunately, by starting your preparation early enough and by timing yourself on practice tests and exercises, you will start to feel more comfortable with the time constraint. If you are a strong English speaker, you may even find it tempting to rush through the test and hand it in much earlier than required. However, this strategy can be just as tricky as being short on time. Always go back through the test sections to check for any errors and to edit if necessary. You may find it helpful to imagine that you are reading your essay or answering the questions for the first time. This strategy will help you adopt a more critical perspective of your work and you will be able to spot small mistakes much more easily.
Check out: IELTS Success Story: "Hard Work Always Pays Off"
Use additional test prep materials
Although test prep groups and professional tutors will give you homework and practice questions to solve at home, adding supplementary materials to your study routine goes a long way in improving your English skills. It is important to choose only trusted sources which use a high level of English so as to avoid learning anything that might be incorrect. Read books in English or newspapers that are well-known and respected in English-speaking countries. Watch the news or find interviews and journalistic video pieces online that cover different topics. You can always start with topics you are interested in but make sure that you take in diverse content. English proficiency tests use information from various fields and by researching different sources, you will start to feel more at ease even in unfamiliar waters.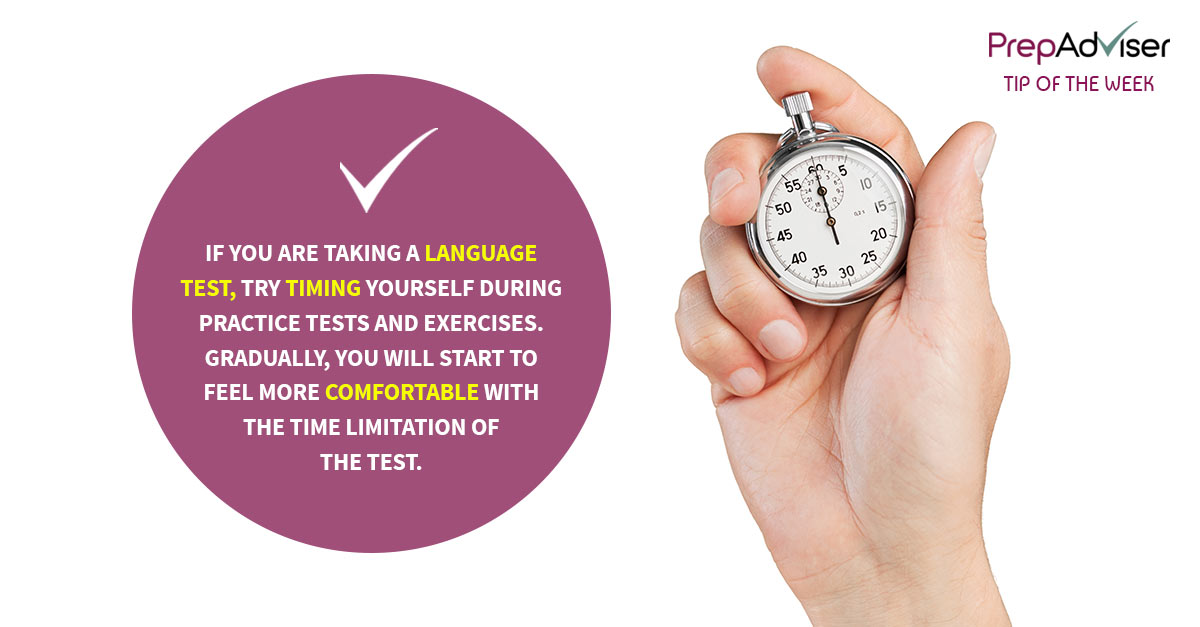 Dive into the areas that you need to improve
While repetition and regular practice are essential tools when preparing for any type of test, it is also important to think strategically about your preparation. For example, if you are taking TOEFL or IELTS, do you find all of their test sections equally easy? This seems unlikely! Perhaps you have no problem concentrating on the reading, listening, and writing tasks but you feel nervous when having to speak about a given topic in English. Or perhaps you get easily confused by multiple choice questions testing different English grammar rules. Either way, we all have our weak spots and it is better to find out what yours are as early as possible in your English language practice.
Your performance at the test should be well-balanced between sections, because during your studies you will need to use vocabulary and grammar in equal measure, as well as apply excellent listening, reading, and speaking skills. If you are working with a tutor, they should be able to point out which areas you still need to improve after evaluating your individual performance. So, if you find out along the way that the usage of "I" and "me" gives you trouble, make sure you understand the rules and start applying them with ease. With additional focus on your problematic areas, be it grammar or vocabulary, you will start seeing considerable improvement.
Check out: 5 Tips to Improve Your Academic Writing (Video)
Build up realistic expectations about your score
Although this may not seem like a tip on how to self-prepare for the test, you may find it helpful along the way. As you have probably found out, starting a graduate study abroad goes hand in hand with reaching a good score on IELTS, TOEFL, or another English proficiency test. If you are an international student struggling with the language and you dedicate sufficient time to prepare, you will not only improve your speaking and writing but you will also gain a much-needed confidence boost.
However, it is a good idea to develop realistic expectations and adjust your choice of programmes to apply for with your final test score. You need to keep up the hard work, but also come to terms with the possibility that some students will perform better on the test than you or that your final score may not be sufficient for a particular school abroad. As a third-year English literature student told The Independent in an article about university life, aligning your expectations with reality can be difficult in the beginning:
When I first started my course, I was shocked at how much reading was required, not just the amount of texts, but the number of secondary sources needed as well. I soon realised it's a lot more about your own learning, so I quickly became more organised to make sure I got it all done.
Whichever of these strategies fits you best, stay consistent and take one step at a time. Your English language goal is within your reach!
Check out: 4 Tips on How to Choose IELTS and TOEFL Test Dates