The interview is a two-way communication
During an MBA interview, as well a Master's or a job interview, you are likely to be invited by the interviewer to ask questions. The interview is a two-way process of getting to know each other.
Business schools admissions committees would like to get to know you really well after they have read through your MBA application package – resume/CV, essays, academic transcripts, letters of reference, etc. But the interview is also an opportunity for you to get some final details about the business school and the programme of your choice.
Check out also:
Interview Preparation Tips for B-School Admission
How your questions matter
The actual questions that you ask are important for several reasons. First, they are a way for you to get personal information or advice from an insider who already knows you well based on your application package.
Second, your questions will certainly convey a message to the interviewers about how committed you are about joining the programme if admitted; how you can contribute; what you are really passionate about, etc. All these are aspects that have high weighting during the final review of your application and the decision for admission or rejection.
Check out also: Master These MBA Interview Questions
How to prepare smart interview questions
Here are some guidelines on how to prepare smart MBA interview questions.
Prepare questions that highlight your strengths and that demonstrate your goals for a career and for pursuing your MBA in that particular business school.
Keep your mind open for inspiration during the conversation. If your interviewer says something during the interview that interests you, feel free to ask for more information.
Think about your interviewers – admissions officers, professors, alumni, current students, MBA programme director. Experts from Shine Admissions advise:
For instance, you could certainly ask alumni interviewers about the classes they found most memorable, though it wouldn't be wise to ask them about new academic programs they may not be aware of. Similarly, admissions staff might not be able to speak from personal experience about attending the program, while current students won't be able to discuss the impact on their careers after graduation.
Stick to your genuine interest and show passion. Ask question about aspects of the b-school and programme in which you have a genuine interest.
Always give examples from your experience or refer to what the b-school and programme offer.
Don't pretend you're perfect. After all, you are going to graduate school to learn and improve yourself.
Ask questions that are not easily answered by checking a website. However, if there is something of particular interest from the b-school's website or brochure, ask for details. This demonstrates that you have researched that MBA programme really well.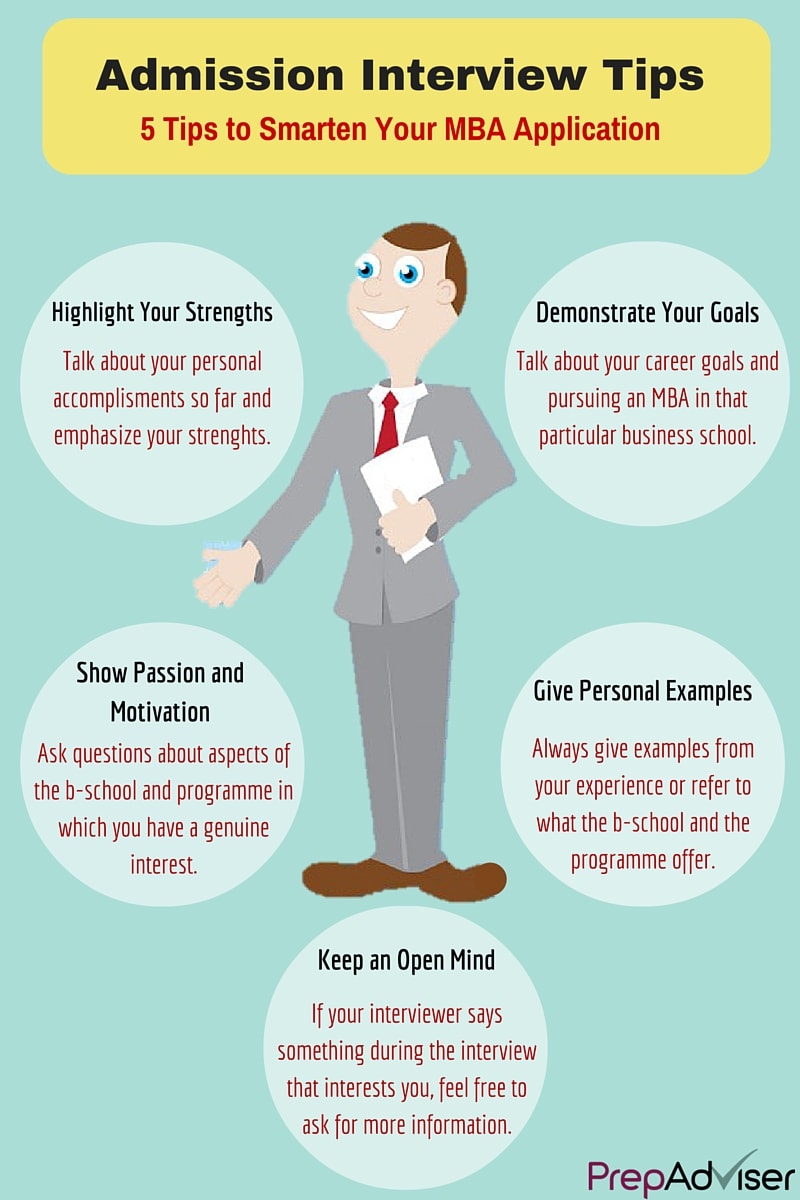 Smart interview questions to ask
For your inspiration, here are some sample smart questions that applicants might ask during MBA interviews. Of course, prepare well in advance and adapt your questions to each business school that you are meeting with for an interview.
1. How can the b-school – with its facilities, community activities and student services – help me pursue my special interests (list them)?
2. Can I contribute my experience in (describe) towards any special projects or research that the b-school and faculty are working on?
3. What is the focus of faculty research or the school's approach in the area that I want to specialise in (describe it)?
4. Why did you yourself decide to become part of this b-school? What makes it a special place for you?
5. If you could give me one piece of advice as a student at this b-school, what would it be?
6. Director of admissions and financial aid at Cornell University's Johnson School of Management, Christine Sneva, shares for US News:
I like it when a candidate asks about the facilities such as the library, student center, and academic buildings. It seems simple, but it shows that the candidate is picturing himself or herself here. And that's important to us.
7. "Can I address something else in addition to what we already discussed?" can also be a nice way to show that the interview for you is a two-way communication. This question is appropriate to invite the interviewer to learn more about you.
The b-schools are selecting their applicants, but prospective MBA students are also selecting the best business school for them. And it is you, the prospective student, that is making the final decision on where to enrol.
This mindset certainly stimulates you to uncover some of the really important questions that you can ask during the interview. Just make sure you put them in the right way, to the right people, at the right moment.
The bottom line is that you are applying to this school because you are really convinced that it will help you get where you want to be career-wise. Let this shine through during the interview and discuss how you can make the most of your MBA experience.
If you have your own smart questions, please share them in the comments.
[interaction id="56d6b1c94ab46a01035e221b"]