Many admissions offices have it as their policy to accept their applicants' best score if they have sat a test more than once. But the most advantageous scenario for applicants is when the admissions teams accept a combined best score. This means that they consider the highest score on each section from all of your valid score reports that you have submitted to that university.
What is a best combined score?
TOEFL has four sections – Reading, Listening, Speaking, and Writing – each scored on a scale between 0 and 30. If you sat the test twice – even if you have an equal overall score, but different scores per section, then you can have a combined best score that is actually higher.
Here is an example. Your overall score is 90 on both tests. The first time you scored Reading – 25, Listening – 20, Speaking – 15, and Writing – 30, but the second time – Reading – 30, Listening – 20, Speaking – 25, and Writing – 15. However, the admissions will take the highest on each section and your combined best score will be 105 with Reading – 30, Listening – 20, Speaking – 25, and Writing – 30.
Check out: The TOEFL Test to Be Shortened by 30 Minutes
ETS improves the TOEFL test takers' experience
The Educational Testing Service (ETS) announced an important change in the score reporting that will be effective as of 1 August 2019:
This new feature combines your best scores for each section from all of your valid TOEFL iBT scores in the last two years. Everyone has a bad day once in a while, and MyBest™ scores give you a way to show your best overall test performance. The best news? You don't have to do anything to take advantage of this feature. All TOEFL iBT score reports sent after August 1, 2019, regardless of the test administration date, will automatically include MyBest scores along with the traditional scores from your selected test date.
What changes for the test takers?
Before the change comes into place, you will have to order a score report for each university where you will apply, and for each test taking. In addition, if you apply to more than four universities or programs, you should order and pay for additional score reports.
The latter does not change, but you will no longer have to worry about which scores to submit in order to provide the best combined score. ETS will do this for you at no additional charge or notice. So, after 1 August, the admissions offices will automatically get a combined best score report along with the traditional score report that you have requested.
Check out: What English Proficiency Tests Are Required at Top B-Schools?
Which of your best scores has more weight?
Universities that have the best score policy do not attach different weight to the two types of best scores – the best score from a single test and the best combined score. However, in highly competitive situations, such as application for a scholarship or in very selective programs, each detail can make a difference and your test scores as well as the rest of your application can be scrutinized.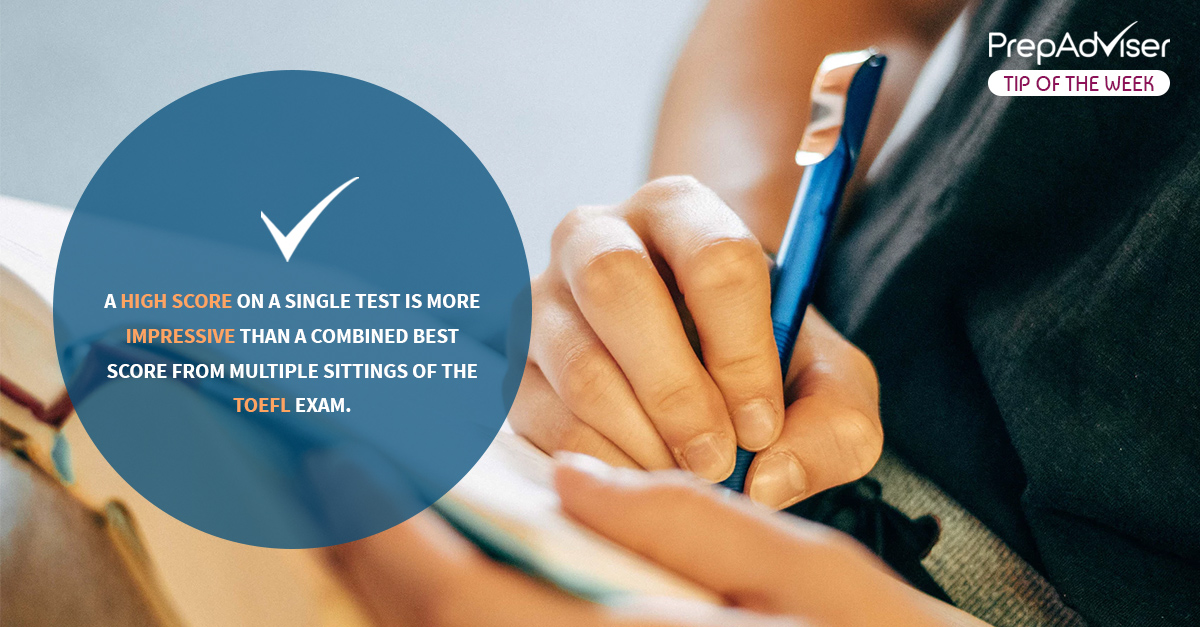 Let's take some more examples to make it all clear. Imagine that you have an overall score of 85 from the first TOEFL test, 110 from the second time you sat the exam, and 110 combined best score. As a former admissions officer, I know from experience that the 110 from the second test-taking can have more weight. Why? Because you performed better during the whole test. You showed fluency in all four language skills. This is very important, because you will need to write, read, speak, and understand English equally well during your studies.
What does this all mean for your preparation and test-taking strategy?
Tip 1: Always aim to perform at your best in all parts of the test
Tip 2: When retaking a test, do not plan to save energy and concentration from some sections in order to perform better at others. Any low section scores will be alarming during the admissions application review.
Tip 3: Start your preparation well in advance and commit to achieving the highest score you can, but plan some time for retaking the test if needed.
Tip 4: Sit the test again only after analyzing what skills you need to improve and actually improving them. Otherwise, there is no point in retaking.
Tip 5: Approach your test prep with the idea that it is not just about achieving a high score, but actually about building the language skills that you will need during your studies in an academic program entirely taught in English. Studying will not be easy even in your own language, let alone in a foreign language.
Check out: TOEFL Advice: American English or British English?
The moral of the story: although universities and the test-makers – ETS – work to your advantage with best score and best combined score policy, the real advantage that you can gain is mastering the four language skills at the highest level. This is all in your control.