The minimum work experience necessary for admission to top MBA courses is usually two to three years, while the average is about five years. Schools find this important because experience shapes your professional goals while also guaranteeing that you will have plenty of stories to share with your fellow students. When the career paths of class participants are advanced enough, the learning curve is also much richer for everyone.
That being said, younger does not always mean inexperienced. If you believe there is no better time to benefit from the MBA journey, you can follow our guidance and show the strongest side of your professional profile.
Be clear about your timing
The best way to address your young age or lack of experience is to be upfront about it. MBA applicants should be well aware of the reason for enrolling in business school and be ready to explain it in application essays and during interviews. The MBA degree can open many doors, help you find exciting career opportunities, and negotiate higher salaries, but none of these reasons will be deemed good enough for your school admission. Cindy Tokumitsu, senior editor and admissions consultant at Accepted, points out:
Especially if you are younger than average, your reasons for applying now must be affirmative, not reactive – based on positive plans and opportunities, not lack of plans or scant opportunities.
Instead, outline how the industry you are interested in is currently developing and why acquiring the degree in the coming years will benefit your expertise in it.
Demonstrate professional growth
If you can show that you pack into one or two years the quality that most other applicants stretch out over four, it can make a very exciting impression.
This is another piece of advice from Ms. Tokumitsu that is worth your careful consideration. It also resonates with a thought we already hinted at—you can demonstrate maturity and experience even when you are younger than average. Perhaps you managed to earn the trust of your employer and have been given significant responsibilities throughout your short professional path so far? Or maybe you completed a top-notch internship as a student and have proactively participated in university projects and volunteer work? Use the full scope of your experience—even part-time work and community service—to give examples of your leadership potential.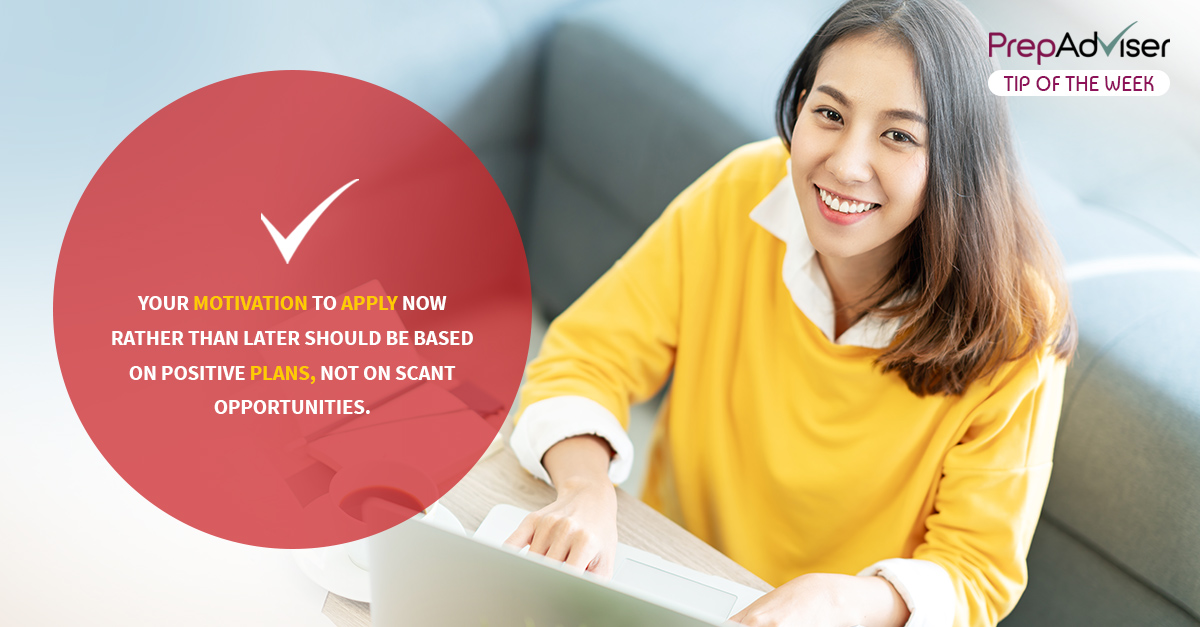 Showcase your academic excellence
In the process of assessing your application, admissions committees will look at your full profile and its different components. This means that your GPA, test scores, university projects, and overall academic performance will also play a role in your admission. Younger applicants should pay particular attention to these aspects of their MBA profile. Make sure that your top grades and superior academic potential work in your favor, showing that you have a head start in the pursuit of your goals. Lena Maratea, digital marketing expert and editor at Clear Admit, also emphasizes this:
If younger candidates are likely to fall short in the 'work experience' category, then their academic profiles are all the more important to show that they are prepared for the rigors of an MBA classroom.
Discuss how you will contribute to the class
Do not forget that your MBA application will serve more than one purpose. It will show the admissions committee your motivation for attending business school, but it should also point out how your participation will enrich the experience for fellow class participants. Is it important for you to gain admission to a particular school? Then be sure to convince the MBA adcoms about your plans to leave a positive mark on the institution as a whole.
Speaking of particular schools, remember that some universities might be stricter in terms of their admissions criteria than you would like them to be. It is essential to know which programs are flexible and which ones have very specific expectations about the age and work experience of candidates. According to U.S. News & World Report, institutions that fall in the latter category include Tuck School of Business (US), Kellogg School of Management (US), and Berkeley Haas School of Business (US). Prospective students will have a better chance of securing a spot in a top MBA program if they research their options thoroughly and choose the ones that seem within reach.
Even if you do a good job of showcasing your experience and growth, remember that the applicant pool will still be very competitive. Your application will inevitably be compared to those submitted by more mature MBA candidates. In that sense, it is a good idea to adopt a realistic view of the process. Do not abandon your dreams but do be prepared to accept that the right time to attend business school might come in a few years' time.