Such an important decision calls for preparation and timing, not only to match the application deadlines, but also to find out about the admission requirements and to have sufficient time to prepare for GRE or GMAT tests.
General requirements
In fact, applying to a graduate programme in the US, either a Master's degree or an MBA, means meeting the following general requirements:
First university degree and a sufficient GPA from previous studies, usually not less than 3.0 for a good graduate programme in a selective college
Previous work experience, usually required for MBAs, or at least for the most selective ones, the ones ranked worldwide as the "Best MBAs in the US"
Reference letters from previous teachers or employers
Motivation letter, statement of purpose or essays.
It is entirely each student's responsibility to have worked hard during previous years in order to have great grades at university, to complete the degree on time, and to explore the field of study both during the undergraduate years and after the degree, with professional internships and work experience, either paid or unpaid.
Other requirements, related more to specific knowledge and language ability:
TOEFL test: usually with a minimum score of 88 on the iBT TOEFL, equivalent to 6.5 on the IELTS or advanced level on the Common European Framework of Reference for Languages.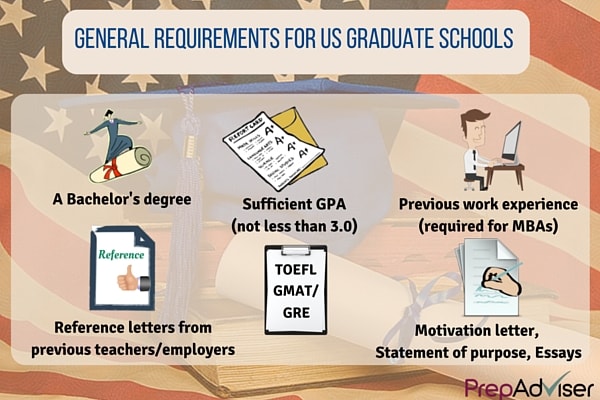 Typical challenges for international applicants
It is understandable that in order to succeed at the TOEFL test, it is important to work hard, and in advance, on the level of English. This is also the basis for understanding and successful preparation of the GRE or GMAT, where quantitative and reasoning abilities are also important. But of course, with insufficient English proficiency, how could you do well in the GRE or GMAT?
Based on our experience, planning for test preparation is the main issue for many international students, especially European or Italian ones. Students realise only a few months before graduation that they do not have enough time to prepare for the tests, and that they have not planned well in advance. They neglected English language studies, being too busy with graduation and university exams, and they rush now to review and practise for the TOEFL, soon realising it is impossible to do it in a few weeks.
Also, most of them are not aware of the requirements for the GRE or GMAT. There is the need to prepare well for such tests, by practising, but also with a review of some of the maths and English studied in the past. Once again this is impossible to cover in a few weeks. So they give up on their graduate school application, or decide to postpone it to the following year, or decide to apply anyway but usually fail.
Graduate application preparation: Graduate Pathways
So, how to prepare yourself for the GRE and GMAT tests, improve your English to do well in the TOEFL exam and prepare a successful application for your favourite graduate programme?
Graduate Pathway programmes are a good way, as they allow students to start studying immediately in the US, on university campuses, without losing a year, and making their student profile stronger in admission officers' eyes.
As you might know, Pathway programmes are also available for undergraduate courses, and the graduate ones work with the same ratio. They are usually on campus, which means you attend classes in a college, integrating with international and local students, and they last from one term to one year according to your level of English at the beginning and the time you need to reach the direct access TOEFL score for graduate course attendance.
Programme contents can vary from provider to provider.
Basic graduate pathways
Basic graduate pathways focus on English and test preparation. These courses include core skills for academic English such as academic writing, reading, presentation and seminar practice, listening and academic presentations. All are essential skills to be able to study in English at a graduate level and have all the tools necessary to succeed in business too.
This type of programme is suitable for students that have never studied in an English speaking country or that need more support before attending proper graduate courses. It usually also includes graduate seminars, test preparation practice for TOEFL, GRE and GMAT, plus academic projects and research with a final thesis.
After this programme, students are supported to apply to graduate programmes or MBAs in the US, and supported with their transfer. Costs of tuition vary from campus to campus but it is about 6,500 USD per semester, plus living expenses (about 350 USD per week). To apply, a GPA of 2.5 and an iBT TOEFL score of 65-70 are required.
Specific graduate pathways
Specific graduate pathways, or what we can call "Soft landing" courses:  some colleges, aside from direct entry to graduate and MBA programmes, also have pathway entry routes.
These are for students that have already selected that college as their first choice with a specific graduate programme to apply to, but they didn't quite make the requirements in terms of TOEFL score or GPA, or have no GMAT or GRE certificate.
During these pathway programmes, lasting one or two semesters, students not only attend academic English and TOEFL preparation lessons, but also receive GRE or GMAT preparation teaching and attend regular graduate programme classes in their field of study.
The difference between pathway and graduate direct entry is that some additional months of studying are added at the beginning, but English classes are not the only content. Students can directly access lessons in engineering, economics, science or whatever is the chosen graduate course, together with regular full-time students, while receiving individual support.
Last but not least, progression into the second semester or year of the graduate programme in the same college is guaranteed, without the need to reapply elsewhere or to move. Costs of tuition vary from campus to campus, and are similar to proper graduate programmes, so from 16,000 USD per semester for tuition, plus living expenses (about 6,000-8, 000 USD per semester). To apply, a GPA of 2.75 and an iBT TOEFL score of 75 minimum are required.
Another advantage of such programmes is that the deadline for application is usually later than for regular graduate programmes. Usually you can apply up to three or four months before arrival (enough time to allow for visa application). For international students like you there is the possibility of personal and specific support from dedicated staff experienced with foreign students with great motivation to study but lacking a sufficiently level of English or some certificates.
Other advantages are that you can start attending classes for your graduate programme immediately, join student union events, use libraries and all the campus facilities and start living as a graduate student, without missing one more day or waiting in your home country until you have the right profile to apply.
Check out also The Student Visa – What You Should Know
For more information on pathways to US graduate programmes, if you are based in Italy or nearby countries, please feel free to contact our Italian office in Rome. We will be more than happy to advise you on the right choice to make.
[interaction id="56bd9ef33c42ab681c73acbf"]