Check out: Tips to Maximize Your MBA Admission Chances (Part 1)
Describe a future self
While it is important to reflect on your past experiences, if you fail to plan your future, you will risk feeling like a driver who is using only the rearview mirror.
An admissions committee wants to see that you have taken the time to specify clear, realistic goals. To get a clearer idea of future career options, we often recommend that our clients research industry sectors, functional areas, and geographic locations where they might want to work post-MBA. Consider what might attract you to work for a particular company. Find people in your network who already work in that area, and ask them what they love most about their jobs, what career steps they took, and what they would do differently if they had a chance to start again.
Do not leave it up to the admissions officer to figure out where your career might be going. Communicate your plan – even if it is tentative. Do not be afraid to have a backup plan. Leave in some flexibility – after all, an MBA is supposed to be a transformational, life-changing experience that will take you to places you have not been before. While it is unlikely you will have an exact plan of how your career will unfold, having no plan at all signals that you lack direction and that could seriously hurt your application.
Check out: Standing Out in the MBA Application Pool (Video)
Finally, make sure your plans are realistic. If you are a Financial Analyst in New York who would like to work in Marketing for a luxury brand in Paris, have you taken the initiative to research the luxury goods industry, been involved in marketing projects for a local company in this sector, or started learning French? If your post-MBA goal is switching industry, location, or functional area, this will certainly prompt some extremely probing questions from the admissions committee, so be prepared to answer them.
Explain how you will get there
Last but not least, after you have taken the time to reflect on your past experiences and project your future career, you still need to answer a very important question. How will the MBA help you achieve your goals and, most importantly, how will a degree from this particular school fit into your journey?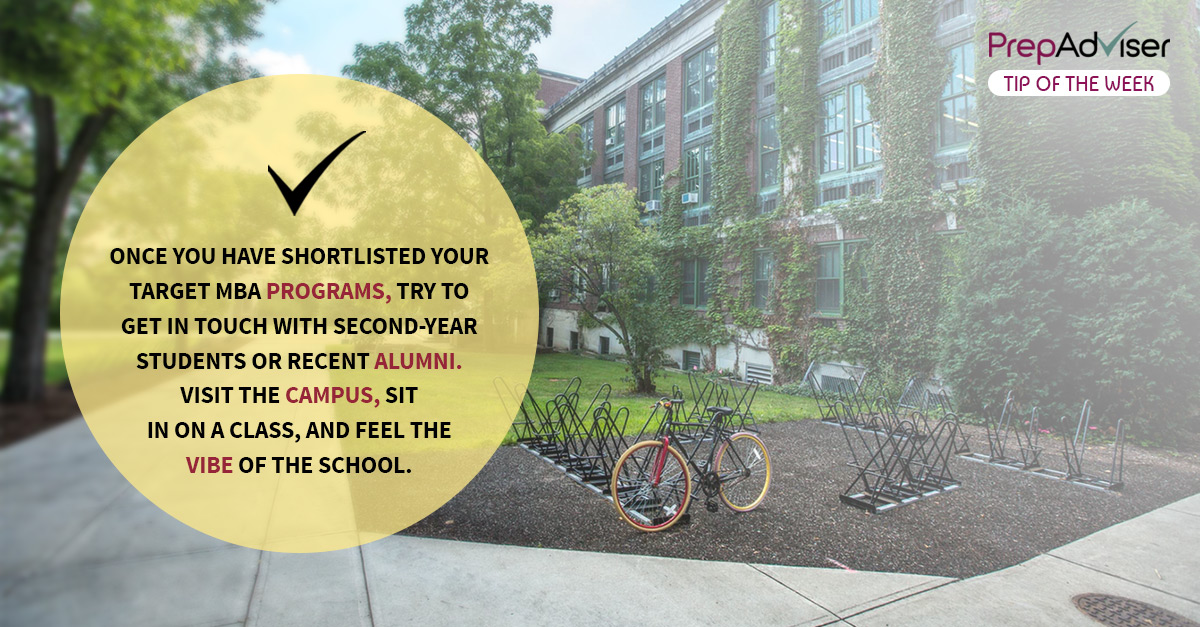 Most B-schools include an essay question asking what attracts you to their school. This is your opportunity to demonstrate your personal fit with the school's culture and values. Begin by researching programs online. Once you have shortlisted your target MBA programs, try to get in touch with the schools' ambassadors, usually second-year students or recent alumni. If possible, visit the campus, sit in on a class, feel the vibe and see if you can imagine studying there.
Your research will help you communicate why the school is the right fit for your career goals, but you also need to explain why you would be a good fit for the school. During your MBA studies, you will learn as much if not more from your peers as from books and professors, and the admissions committee wants to make sure that you will be able to contribute to the success of others as well.
Check out: Simon Sinek on Performing Under Pressure (Video)
What if you are not ready?
If, after doing your research and evaluating your options, you feel that you need to strengthen certain aspects of your application to maximize your chances of admission to your dream B-school, maybe consider taking a year or two to improve the weak spots in your application.
Are you about to get your first promotion at work? Have you recently switched to a new industry and want to prove yourself before moving forward? Have you always wanted to get involved in pro-bono consulting, but never had the time? Or would you like to get a higher GMAT score, but the application deadlines are rapidly approaching?
Remember that an MBA degree is a once-in-a-lifetime opportunity that will not only give an instant boost to your career but will also provide long-term benefits. If you feel rushed in your decision, you may make careless (and costly) mistakes.
Step back and take the opportunity to reflect on your MBA application and you will not only have a better chance of getting into the school you really want, but you will also enjoy the process! Good luck!