Pepperdine Graziadio Business School MBA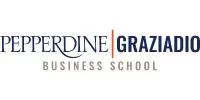 About Pepperdine Graziadio Business School
At Graziadio, our mission is simple—promote transformational learning, create applied knowledge, and equip our students to become values-based leaders and entrepreneurs. Through our mission and Christian values, our programs foster a community of driven and passionate students who want to make a lasting impact within the world of business.
Our signature collaborative classes and tailored curriculum options meet the lifestyle needs and unique ambitions of working professionals, seasoned executives, and full-time students.
Programme Presentation
The Graziadio Business School is anchored in the core values of integrity and innovation, and is dedicated to shaping Best for the World leaders that drive meaningful, positive change in their global organizations and communities. We offer a wide continuum of full-time and part-time MBA programs, as well as executive doctorate, master's, bachelor's, and joint degree programs online and across four California campuses, including Malibu, Calabasas, Irvine and West LA.
Programme Info
Full-Time MBA
Cultivating a Worldview for Better Business, Communities, and Leaders
The full-time Master of Business Administration (MBA) program is designed for aspiring leaders seeking to build their business acumen and entrepreneurial spirit to make a positive impact in the world. With classes at Pepperdine's iconic Malibu campus, you can earn your master's in business administration in as little as one year and enhance your education with a specific concentration, a certificate in Social, Environmentally, and Ethically Responsible (SEER) Business Strategy, and study abroad options.
Program Benefits:
Choose from 12-, 15- or 20-month program options
Six academic concentration opportunities
High-impact experiential learning through the Education to Business (E2B) program
Small class sizes providing a supportive learning environment and meaningful student-faculty interactions
Three joint degree options: JD/MBA, MBA/MPP, and BS/MBA
Opportunities to explore the global business community through study abroad
Internship opportunities
Offered in the Fall term
Part-Time MBA
Elevate Your Career Potential With a Schedule That Complements Your Life
You don't have to put your career on hold to pursue an MBA. The Part-Time Master of Business Administration (FEMBA) is a flexible program designed for busy working professionals that focuses on transformational learning and people-first leadership. With no GMAT or GRE required for admission, a Pepperdine MBA equips you to upgrade your skills and redefine what's possible for your life, and your career.
Our professors bring decades of real-world experience to each classroom, facilitating opportunities to test your insights in real time. Our experiential E2B program takes you beyond traditional case studies. In select classes, students work in competing teams to tackle multifaceted business challenges presented by pre-selected partner organizations. You'll work directly with these companies, ranging from global powerhouses and regional brands to entrepreneurial startups.
Where and how you study is up to you. No matter which schedule or location is most convenient for you, you'll receive our signature high-quality curriculum, personalized instruction, and the benefits of our large alumni network.
Program Benefits:
Complete your program in as little as two years
GMAT or GRE scores are not required for admission, however, test scores can be beneficial for scholarship consideration.
Comprehensive curriculum delivered in small, collaborative classrooms
Three term starts provide the opportunity to begin classes when your life and work schedules allow
A choice of seven MBA concentrations tailored for specific careers and interests
Outstanding faculty with a unique combination of academic accomplishments provide real-world industry experience
High-impact experiential learning through the Education to Business (E2B) program
Opportunity to gain hands-on global business experience with the Going Global with Graziadio (G3) program
Four Pepperdine campus locations that foster networking and relationship building near where you live and work
Extensive networking opportunities with an alumni network of more than 40,000 professionals worldwide
Offered in the Fall, Spring, and Summer terms
Executive MBA
The Pepperdine Graziadio Business School offers two separate Executive Master of Business Administration programs for mid-to senior-level professionals ready to take the next step in their careers.
Classes for our one-of-a-kind Presidents and Key Executives MBA (PKE) MBA and our Executive MBA (EMBA) meet at multiple campus locations to accommodate the busy schedules of working executives.
Close
Read More