Asia School of Business in collaboration with MIT Sloan MBA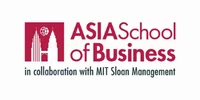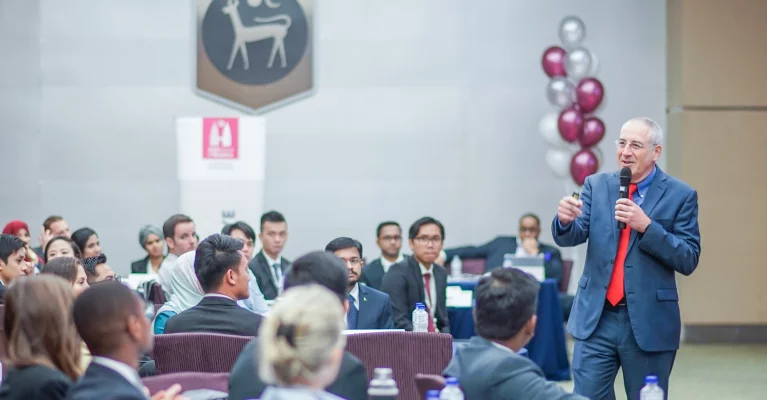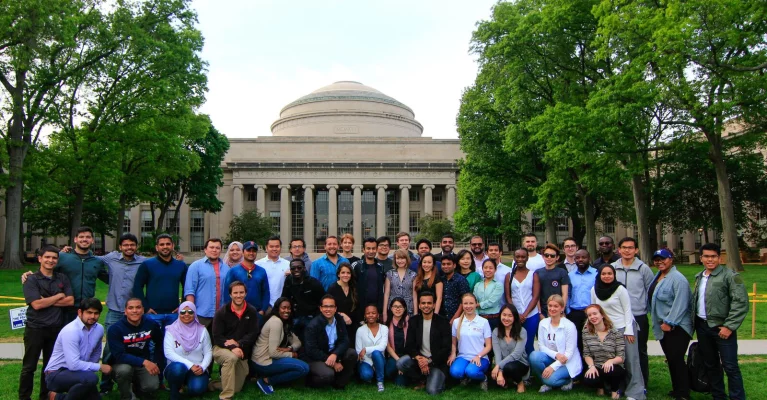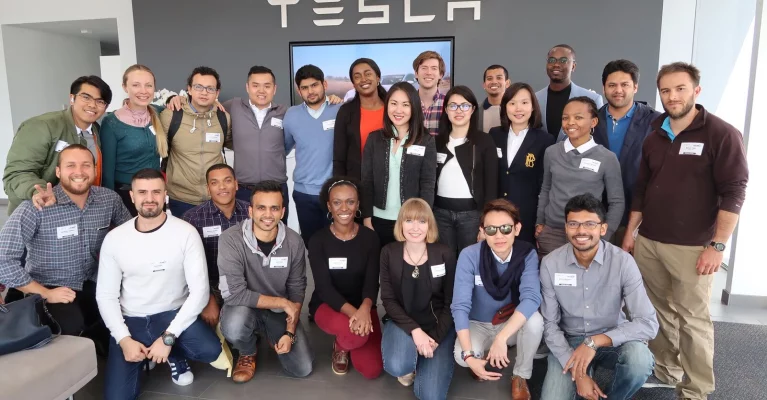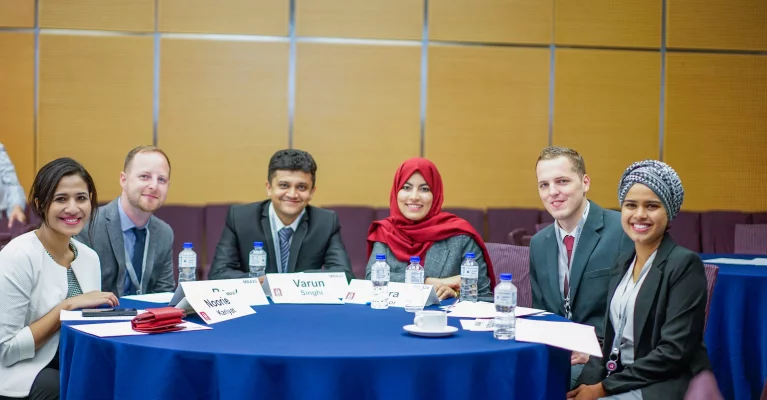 About Asia School of Business in collaboration with MIT Sloan
Located in Kuala Lumpur, Asia School of Business' innovative MBA program is designed to develop the next generation of leaders in the rapidly growing Southeast Asian region. ASB's MBA program is based on the rigor of MIT Sloan's curriculum with a focus on Asia's dynamic business environment. The ASB curriculum is unique in its use of Action Learning (experiential learning) as the core part of the educational process – it comprises roughly a third of the curriculum. MIT Sloan and ASB faculty teach in the program, and students take classes in both Kuala Lumpur and in MIT's campus in Cambridge. Students travel extensively throughout the program - for their Action Learning projects, industry treks in the US and China, and optional career treks in Dubai, Singapore and Hong Kong.
Download our Full Time MBA brochure
Unique Facets of the ASB MBA Program
Award-Winning Professors
Our school was founded in collaboration with MIT Sloan, which means that students learn from award-winning visiting MIT professors alongside our ASB resident faculty who are renowned leaders in their fields, extraordinary scholars and dedicated teachers committed to engaging the best minds and cultivating a global community of leaders.
Action Learning Projects
Our exciting Action Learning projects allow students to travel to our corporate hosts to work on-site with them on real business projects. Students can select from over a dozen Action Learning projects spread across the world depending on their industry and subject of interest. One-third of their time will be spent outside of the classroom.
US & China Study Trips
As an international business school situated in the middle of the fast-growing emerging economies of Asia, understanding the linkages with the world's two largest economies is critical. ASB's students participate in compulsory week-long study trips to China and the USA to gain a better appreciation of the impact that these two powers are having on the world from an economic, business, and geopolitical perspective.
MIT Sloan Immersion
Students will spend four weeks on MIT Sloan's Cambridge campus, taking additional courses offered by MIT faculty and engaging in Sloan student activities. Upon finishing the Immersion Program, students will receive a Certificate of Completion from MIT. Students also receive Affiliate Alumni Status upon graduation from ASB.
Globally Oriented Career Treks
ASB conducts optional Career Treks for students in Singapore, Hong Kong, and Dubai ​in order to create a robust hiring market for our highly international student body. On these treks, students meet with prominent multinational companies, get exposed to innovative start-ups, and build relationships with ASB's global network.
Entrepreneurship-Focused
Through our Innovation and Entrepreneurship Center, students have access to a fully equipped MakerLab as well as an entrepreneurship-focused curriculum. Our students have founded student organizations, run on-campus start-ups, created podcasts and publications, and helped to shape the MBA program itself.
Diversity
We have a diverse group of students come from over 30 countries are frontier-minded, action oriented and excited to learn in the fastest growing region of the world.
Scholarships
Highly qualified applicants receive generous scholarships up to the full amount of tuition, housing, and travel. Ask us more about our scholarship opportunities when you meet us.
---
Other Programs
The MBA for Working Professionals Program (MBA-WP)
In 2019, ASB rolled out its MBA for Working Professionals program, a modular 22-month program that allows professionals to retain their full-time employment or continue running their own companies while earning the MBA. It shares similar hallmarks with the full-time program, including experiential action-based learning applied to their own companies (Learning in Action), a one-month immersion in the MIT Sloan campus in Boston, and is taught by the same faculty as the full-time program.
Programme Presentation
As a partnership between MIT Sloan and the Central Bank of Malaysia, Asia School of Business exposes students to a world-class management education experience in Asia on the frontier of the business world. ASB's innovative curriculum delivers market-relevant preparation with leading companies throughout Southeast Asia. You will have the opportunity to gain a global perspective in international hubs such as the US, China, Singapore, Dubai, and Hong Kong. Our diverse cohort of 70% international students and over 40% women will help you the develop the cross-cultural interpersonal savvy that you need cultivate a meaningful and impactful global career.
Programme Info
MBA - Full-Time Residential Program
Quick Facts
Program Length: 20 months

Designed for Full-Time Residency

Students cannot be employed while on the program

Action Learning Projects take place with up to 5 different host companies
Application Deadlines
Round 1: OCT 21, 2021
Round 2: JAN 25, 2022
Round 3: APR 5, 2022
Start date: August of every year
MBA for Working Professionals Program
Quick Facts
Program Length: 21 months

Modular Format: Travel to and from campus in Kuala Lumpur every six weeks

Students must be employed for the duration of the program

Action Learning Projects take place with your employer
Close
Read More
Student Body
Student Body
At ASB, we value MBA candidates who have pushed boundaries and love to explore new frontiers. Our students have started businesses, earned advanced degrees, and moved abroad to expand their companies. They come to ASB to experience working life in different countries, learn new skills, and gain the confidence and experience to launch new ventures.
Class size: 35-50 per cohort

Female ratio: 40-45%

Average age: 29

Average years of professional experience : 6

More than 30 nationalities
Careers
ASB's core curriculum and our Career Development Office (CDO) programming prepares students for careers in Asia and beyond. We immerse our students in the diverse cultures within ASEAN and Asia as a whole, increasing their empathy and adaptability and strengthening their relationships in the region. Upon graduating, many of our MBA candidates from all over the world transition into management positions in Asia, further strengthening the global ASB network year after year.
Our alumni work in some of the globe's most recognizable companies. These include leading AirAsia, Amazon, Grab, LEGO, McKinsey, Samsung, Uber, Novo Nordisk and Microsoft. A quarter of alums report directly to the C-suite of their companies. And the average salary of our '18 alumni is $135,144 (PPP-adjusted) compared to the $133,865 average of MBAs from schools on the Financial Times' 100 top Global MBAs three years after graduation.
On average, ASB alums achieved 13% annualized salary growth in advanced economies and 16% in emerging economies, outperforming that of the Financial Times Top 100 Global MBAs which averaged 5.7% in developing Asia, 3.3% in the U.S., and 2.5% in Europe.
The salary progression since graduation tells the best story. It speaks to our students really performing well in the market, taking our action learning based curriculum and demonstrating impact in their companies.
Close
Read More
Admission Requirements
Admissions Criteria
ASB selects candidates with a high degree of intellectual capability and emotional maturity from an impressive international pool of applicants. Our rigorous MBA program is suited for students that have performed at a superior level in their university studies, have professional work experience, demonstrated the ability to pursue personal goals and exhibit a high level of integrity.
We expect applicants to meet the following minimum requirements to be considered for admission:
- Bachelor's degree or equivalent from a recognized institution with a minimum 2.5 GPA on a 4.0 scale
- At least 2 years of post-graduation work experience
- Proof of English proficiency
Close
Read More
Costs
Costs
MBA - Full-Time Residential MBA Program
Application fee: No application fee
Tuition fees: USD 85,000 (includes Tuition, Accommodation, Course Materials, Action Learning Projects, Residential Program at MIT and Industry Treks)
Estimate for accommodation/living costs, insurance: USD 17,000 for food and incidental expenses
Scholarships & Financing
Generous scholarships are available for all applicants
MBA for Working Professionals Program
Application fee: No application fee
Tuition fees: USD 85,000
Scholarships & Financing
No scholarships available as the MBA-WP Program is designed for corporate or self-sponsored professionals
Close
Read More