Fordham University - Gabelli School of Business MBA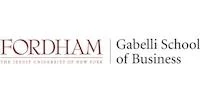 About Fordham University - Gabelli School of Business
Business with a Purpose in the Heart of New York City.
Top firms seek out Gabelli School MBAs for their analytical and strategic thinking, strong communication and interpersonal skills, principled leadership, sense of humility, and a commitment to collaboration and community. Fordham produces students whom people will hear about and admire not in 15 or 20 years, but in one or two.
Programme Presentation
The Gabelli School of Business at Fordham University educates students who possess the knowledge, creativity, and skills to have a defining and lasting impact. Gabelli School students share a "business with a purpose" approach that prepares them to be leaders who create transformational change. They learn to balance the demands of profit with the interests of their communities and the world. They refine their business philosophy, along with industry- and function-specific knowledge, through a mix of practical and theoretical learning experiences.
Programme Info
The mission of the Gabelli School of Business is to develop business leaders who are equipped for continuous growth in the changing global environment. Located in the commercial capital of the world, the Gabelli School is uniquely positioned to offer students the opportunity to participate in regional and global economies. Its reputation is built upon scholarship and excellence in teaching. Students participate in hands-on learning experiences, including consulting projects with major firms, and technical workshops throughout the programme. The faculty includes distinguished scholars, as well as senior business leaders from Fortune 500 firms.
Community is a hallmark of the Gabelli School, where an open, supportive environment proves that it is possible to be both competitive and collaborative. MBA students receive special attention in their internship and job searches from a dedicated team of career services professionals and, at the conclusion of their programme, join a global network of 175,000 Fordham University alumni. Graduates of the programme have held MBA-level internships at Bank of America Merrill Lynch, Cadillac, Citibank, Colgate-Palmolive, General Electric, Goldman Sachs, HSBC, Pfizer, and a few dozen other companies.
Programme Information
Accreditation(s): AACSB, Middle States Commission on Higher Education, STEM certified Ranking(s): Bloomberg Businessweek: 1 in Corporate, Social, Environmental Responsibility and 43 (Full Time MBA); US News and World Report Four Top 20 MBA Speciality Areas; Forbes-70 (Full Time MBA); Financial Times: 57 (MS in Global Finance); CEO Magazine: Tier 1 North America (MBA), 18 (EMBA); The Economist: 92 (Full Time MBA); Type of Programme: Full-time MBA Programme Programme Format: 20 months Content Strength or Specialization: Accounting, Communications and Media Management, Finance, Information Systems, Management, Marketing, Public Accounting (CPA-Licensure Track) Application Deadlines: October 28 (Priority deadline), January 13, March 17 (last deadline for international applicants), May 26 Starting Dates: September (Fall) Exchange Programmes: ESADE (Spain), Koc University (Turkey), Peking University (China), Skema Business School (France)
Close
Read More
Student Body
Student Body
Male/Female Ratio:
64%/36% (FT MBA)
Average Age:
27 (Full Time); 28-30 (Part Time); 30-35 (Executive)
Degree Background:
Various
International Students:
70% (FT MBA)
Close
Admission Requirements
Admissions Requirements
University Degree:
Bachelor's
GMAT Average:
655 (Full Time), 548 (Part time), 520 (Executive)
TOEFL/IELTS Minimum:
TOEFL (100) / IELTS (7)
References:
2
Minimum Length of Professional Work Experience:
3-5 years
Close
Costs
Costs
Application Fee:
$175
Tuition:
$120,784 plus one time fee of $7,000 (Full Time MBA), $1950 /credit (Part Time MBA), $114,000 (Executive MBA)
Scholarships:
Scholarships range from 20% to 100% of tuition

Close
Contacts
Gabelli School of Business Graduate Admissions Office
Email:
admissionsgb@fordham.edu
Phone:
1 (212) 636-6200
Website:
http://www.fordham.edu/business
Close