TRU Bob Gaglardi School of Business and Economics MBA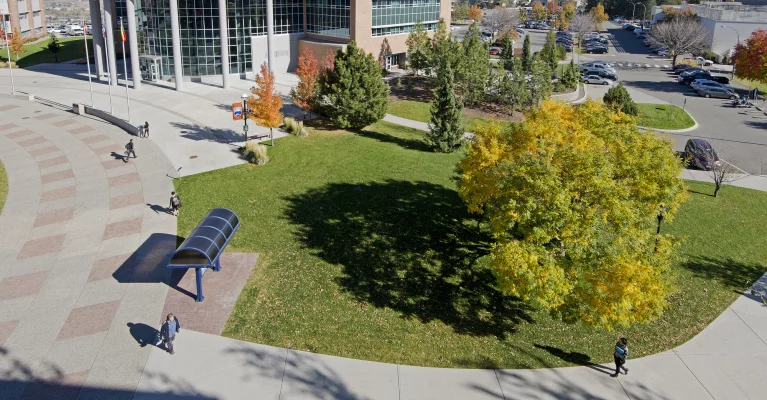 About TRU Bob Gaglardi School of Business and Economics
TRU is a public university accredited by the Government of British Columbia and has been granted the BC Education Quality Assurance (EQA) Seal.
Thompson Rivers University offers one of Canada's most flexible MBA programs with on-campus, online, blended, full-time and part-time program options.
You can choose the study option that suits your learning style, your work demands and your personal commitments. Whether you choose to study on-campus, online or through a blended combination, all students study the same curriculum and get the same high calibre instruction and learning experience.
Centered in the heart of Kamloops, BC, our campus is situated in one of Canada's most beautiful settings and welcomes nearly 26,000 students who study on campus or in distance or online courses. We are proud of our diverse student population that is about 10 percent Indigenous and 30 percent international, enriching TRU's inclusive community culturally and academically.
Awaken your potential and reach your goals with many paths to learning, hands-on experience and a supportive, collaborative environment. TRU's modern combination of excellent teaching, community-inspired research, flexible learning pathways and dedicated student support creates an environment where research, creation and innovation thrive—and so do our students.
Programme Presentation
Thompson Rivers University offers one of Canada's most flexible MBA programs with on-campus, online, blended, full-time and part-time program options. In addition, Bob Gaglardi School of Business and Economics is now offering two specialized graduate programs: Master of Environmental Economics and Management and Master of Science in Environmental Economics and Management (research based)
Programme Info
On-Campus MBA Courses
TRU's on-campus MBA courses run on a daytime and evening, weekday program schedule with new intakes starting in September and January of each year. Small class sizes ensure high quality interaction between students and the instructor. The classes utilize the case approach, business simulations, team projects, company visits and guest speakers to engage students in the learning process. Global perspectives are incorporated throughout the curriculum and the diversity of our students and faculty further enhance the development of intercultural understanding. On-campus courses are offered in the fall, winter and summer semesters.
Online MBA Courses
TRU recognizes that many students need to balance work and life responsibilities with their studies. The convenience and flexibility of online MBA study allows them to advance their careers or change a career path with minimum disruption. Online students may begin the program in September, January or May.
In the online MBA courses, you study the same rigorous curriculum and often have the same instructors but you aren't tied down with set class times. TRU's online MBA courses are paced, meaning you have set start and finish dates and fixed assignment deadlines as you would in the on-campus courses. Final examinations are written in person at a local testing centre and are scheduled on weekdays during business hours.
Technological innovations, such as lecture capture software and online collaboration, guarantee a high level of interaction between faculty and students and allow the program to maintain a learning atmosphere similar to being in a classroom. Distance learners, like on-campus learners, will work in teams analyzing and presenting cases as if they were on campus.
Career development activities such as workshops and guest speakers are extended to online MBA students utilizing tools such as live streaming video and online students have the option to attend any on-campus MBA events that they desire.
Blended Learning
TRU gives you the flexibility to combine on-campus and online MBA courses to fit your lifestyle. This allows on-campus students the flexibility to select an online course that works better in their busy schedule or an online student to enhance their experience with an on-campus course. Because all TRU MBA students study the same courses and the same curriculum, you can choose to study both online and on-campus courses to customize your MBA experience.
Part-Time Study
Part-time study options are available for both online and on-campus study. Part-time students can customize a course load each semester that meets their needs but they must complete the MBA program within 7 years of the start of the program. Fees for part-time students are charged on a per-course basis.
Accelerated One-Year Program
Recent graduates of acceptable Bachelors degrees in Business and Commerce may qualify to have the first-year courses waived, allowing them to complete our program with just 12 months of full-time study. Placement in the one-year MBA program is highly selective and generally only granted to recent graduates of recognized business degrees completed in North America.
New Graduate Programs
TRU is now offering two specialized Business Graduate Programs: the
Master of Environmental Economics and Management
and the
Master of Science in Environmental Economics and Management
. These programs provide students with a unique combination of skills and knowledge that include a broad understanding of the business environment, the tools to perform an economic analysis of the cost, the benefit and impact of sustainability initiatives, and the leadership and change management skills to work with diverse stakeholders to successfully lead and manage these initiatives.
Close
Read More
Admission Requirements
Admission requirements:
Education Requirement: Acceptable 3 or 4-year undergraduate academic degree in any discipline from a recognized institution. A minimum B average (GPA of 3.0 on a scale of 4.33) on the most recently studied 60 academic credits. We encourage applicants to apply to our program after completing any existing academic degrees.

Language Requirement: Applicants who complete their undergraduate degree in an English language university in a country whose first official language is English may not need to provide proof of English language proficiency.
In order to be considered sufficient for waiving the proof of English language proficiency requirement, the credential awarded must have a final GPA of B or better and must be from a minimum two-year diploma program.
However, if the undergraduate degree was completed in a country that does not consider English to be their first official language, then the applicant should have a recent minimum academic IELTS score of 7.0 (with no band below 6.5) or institutional equivalent:
A minimum TOEFL score of 587 with a TWE of 5.0 or higher (paper-based test), or minimum score of 94 with no section below 20 (IBT), or
Pearson Test of English (PTE ) - Overall score of 68 with no bands less than 62
No GMAT/GRE required
Work experience is beneficial but not required
Quantitative skills requirement: Applicants must have adequate quantitative skills in the opinion of the TRU MBA Committee.
Close
Read More
Contacts
For more information regarding the Master of Business Administration program contact us at:
Toll-Free within Canada: 1.877.663.4087
Phone: +1.250.371.5652
Email: mba@tru.ca
Website: tru.ca/mba
For more information on the MEEM/MScEEM programs contact us at: Toll-Free within Canada: 1.877.663.4087
Phone: +1.250.371.5652 Email: eem@tru.ca Website: tru.ca/eem
Mailing Address:
Bob Gaglardi School of Business and Economics
Thompson Rivers University
805 TRU Way
Kamloops, British Columbia V2C 0C8
Canada
Close
Read More