Rice University - Jones Graduate School of Business MBA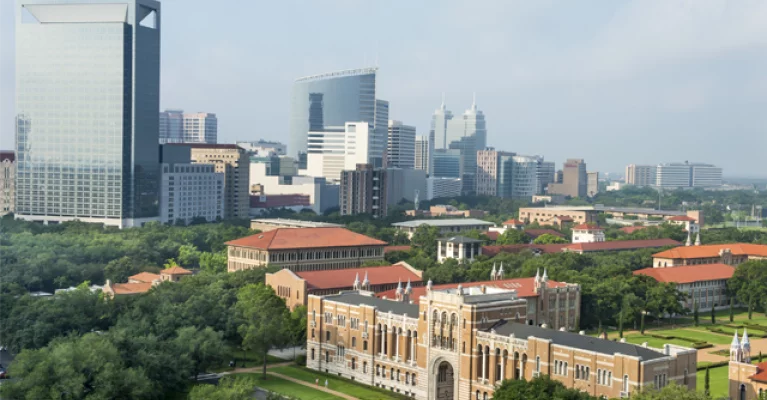 About Rice University - Jones Graduate School of Business
Named in honor of the late Jesse H. Jones, a prominent Houston business and civic leader, the school is consistently ranked among the nation's top business schools.
All courses are taught by a dedicated, nationally-recognized team of professors who integrate insights from their own rigorous, peer-reviewed research and help students understand these topics in the context of today's ever-changing business landscape. Learn more about the scholarship of our academics from our online ideas magazine, Rice Business Wisdom, devoted exclusively to the practical, useful summaries of peer-reviewed research.
As a student, becoming a part of the business school at Rice University means they will live, study and play on a spectacular tree-lined campus nestled in the heart of Houston. Graduate degree programs include:
Rice Business also offers a full schedule of executive education open enrollment and customized courses for business and industry along with certificates in finance and accounting, health care, and marketing.
Each program works with the same top-notch faculty, in the same business school building, on the same campus. Learn more about our degree and non-degree programs.
Programme Presentation
Join the next generation of global leaders at the Jones Graduate School of Business at Rice University, one of the 10 best business schools in the U.S. in the country's most diverse city. Here, we focus on three things: being attentive, responsive and kind. We are proud to welcome a high-quality and diverse student body, with 31 percent international students, 34 percent women and 10 percent underrepresented minorities. See why Bloomberg Businessweek named us the No. 8 business school in the country. Come to Rice Business and we'll help you make your mark on the world.
Programme Info
Rice Business is the youngest and fastest-rising business school in the U.S.:
Ranked #1 in Entrepreneurship (Princeton Review and Entrepreneur Magazine, 2020)
Ranked #1 MBA program in Texas for Women ( Financial Times, 2018)
Ranked #3 Best MBA for Finance (Princeton Review, 2020)
Ranked #5 Best MBA for Human Resources (Princeton Review, 2020)
Ranked #5 Most Competitive Students (Princeton Review, 2020)
Ranked #8 Best Classroom Experience (Princeton Review, 2020)
Average GMAT score 710
Rice Business' intimate program fosters a diverse student culture that balances academic rigor with friendly collaboration:
Our 120 full-time students represent the smallest class size among the top ten business schools
Our small class size gives students the chance to be active learners and own their education, both in and out of the classroom
Students learn through a combination of case method, simulation and experiences with companies from all industries
Our tight-knit culture defines both your time as a student and the rest of your life as an alum — being part of a small family (where 21% of the family is in the C-suite) means true and meaningful connections.
Students can take advantage of living and working in Houston, one of the most diverse cities in the country.
Houston is:
Our school is created to change your career. We have built each program at Rice Business to give you the education and skills you need to further your career. Stay where you are and move up the ladder. Or take a leap of faith and try something new. Either way, the Career Development Office is available to meet with you six days a week and extended evening hours.
Students at Rice Business:
Intern in the summer between the first and second years, allowing students to explore any career option
Focus on as many as two of our nine academic concentrations
Use their entire second year to set themselves up for their dream job
Work with top employers after graduation, like Amazon, ExxonMobil, Deloitte, Ecolab, Phillips 66, EY and Citi
Benefit from a worldwide family of alumni
Rice Business is an internationally recognized leader for educating and producing talented entrepreneurs. Whether you're starting a new enterprise or making something happen inside the company where you already work, the entrepreneurial mindset is a necessary part of any successful person's tool kit. For our students, it's not a matter of whether to become an entrepreneur, but when.
No. 1 Graduate Entrepreneurship, Princeton Review/Entrepreneur Magazine, 2020
Rice Business Plan Competition, world's richest and largest graduate student startup competition
Close
Read More
Student Body
Full-Time MBA Profile, Class of 2021
Number of Incoming Students: 108
Average GMAT: 710
80% GMAT Range: 640-760
Average GPA: 3.40
Average Years of Work Experience: 5.12
% Women: 38%
% Foreign Nationals: 30%
Countries Represented: 16 (including USA)
% U.S. Underrepresented Minorities: 18%
To learn more about our Professional MBA and Executive MBA profiles, please visit our Class Profiles.
Close
Read More
Admission Requirements
Full-Time MBA Application Deadlines, Class of 2022
Decision Round Application Deadline Decision Date Round 1 Friday, October 11, 2019 Friday, December 6, 2019 Round 2 Friday, January 3, 2020 Friday, March 13, 2020 Round 3 Friday, April 3, 2020* Wednesday, May 8, 2020
*For Full-Time MBA applications, we will accept re-takes of standardized tests until April 16, 2020.
To learn more about admissions deadlines for Consortium applications, the Professional MBA, or the Executive MBA, please visit our Important Dates & Deadlines.
To learn more about our admissions requirements and policies, please consult our Requirements & Application Guide.
Close
Read More
Costs
Tuition and Fees
The tuition for the Full-Time MBA, MBA/ME and MD/MBA for the Fall 2020 - Spring 2021 academic year was $60,940*. An enrollment deposit of $2,500** is due upon acceptance.
Last year, 84% of our incoming class received a merit-based scholarship. And to make the number even more impactful, the average award was 87% of tuition. Consider graduating from a top-tierred US program with as little school debt as possible!
To learn more about tuition, financial aid, and merit-based admissions scholarships for our Full-Time MBA program, please use our Tuition and Financial Aid guide.
* Tuition and Fees may increase 2 - 5% one academic year to the next.
** The $2,500 ($1,250 for MD/MBA) non-refundable deposit is due upon acceptance into the program and serves as a guarantee of enrollment in the year for which you are accepted. The deposit is applied toward the cost of your first semester.
Close
Read More
Contacts
In Person:
Rice MBA Recruiting and Admissions Office
Rice University, McNair Hall, Room 109
6100 Main Street, MS-531
Houston, TX 77005

By Phone:
Local: 713-348-4918
Toll-Free: 1-888-844-4773

By Email:
Close