Nottingham Business School, Nottingham Trent University MBA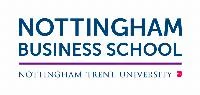 About Nottingham Business School, Nottingham Trent University
At Nottingham Business School we aim to provide a challenging, hands-on and rewarding educational experience in a world class environment.
Our mission is to provide education and research in business, management and economics that combines academic excellence with impact. The purpose and effect of that work is to drive change in business and organisational practice through knowledge and people. Our aim and vision is to be one of the UK's leading business-focused business schools.
By choosing Nottingham Business School you can be sure that you will graduate with the qualifications needed to open the door to an exciting and rewarding career.
We're ranked in the 2017 Financial Times (FT) top 95 Business Schools in Europe and amongst the top 95 universities globally in the ranking for Masters in Management. The Financial Times Ranking for business schools is one of the most highly acknowledged and widely cited authority on quality and performance of institutions globally, so we are very pleased to be holding a position in the rankings.
Nottingham Trent University has been named University of the Year in the Guardian University Awards 2019
Programme Presentation
Nottingham Business School, part of Nottingham Trent University, is an international business school with a rich and vibrant postgraduate community. We're in 1% of business schools worldwide to have both EQUIS and AACSB accreditation. These accreditations are an indication of our unique and dedicated approach to personalising learning. We tailor our courses and provide a range of comprehensive resources such as academic and industry mentors. We have one of the largest and most diverse teaching faculties of any UK business school.
Programme Info
Our outstanding MBA course offers you a truly life-changing experience and an exceptional opportunity to realise you full potential. The Master of Business Administration (MBA) is the most coveted and internationally recognised postgraduate management degree in the world, and there's a good reason why. It is widely recognised as a passport to a successful management career, enabling managers with a functionalist role to take on a more senior, strategic position, and empowering senior managers to gain the in-depth, strategic knowledge they need to climb even higher.
Courses we offer:
Close
Read More
Student Body
Don't just take our word for it – hear what our students have to say about studying and living in Nottingham as well as the courses and our facilities.
Close
Admission Requirements
a undergraduate degree (2.1 or above) or an equivalent professional or academic qualification
a period of professional work experience incorporating operational responsibilities – three years minimum, preferably five
two academic or vocational references.
If English is not your first language you need to show us that your language skills are strong enough for intensive academic study. We usually ask for an IELTS test and we accept some alternative English language tests.
For 1-year Masters you'll need a 6.5 grade overall with minimum of 5.5 in each component.
For 2-year Masters you'll need a 6.5 grade overall with a minimum of 6.0 in speaking and listening, and 5.5 in reading and writing.
For a list of our language requirements please visit our English language page.
If you need to do a pre-sessional English language course to meet the English requirements, please visit our pre-sessional English course page.
Close
Read More
Costs
Fees for our MBA are:
£18,000 (one year full-time)
£19,385 (£18,000 in year one and £1,385 in year two
We offer a number of competitive scholarships to home, EU and international students. Visit the fees, funding and scholarships section on the Nottingham Business School website for more information.
Close
Contacts
If you would like to find out more or if you have any questions at all please contact us
Telephone: +44 (0)115 848 4460
Email: nbs.enquiries@ntu.ac.uk
Close