ESMT Berlin MASTERS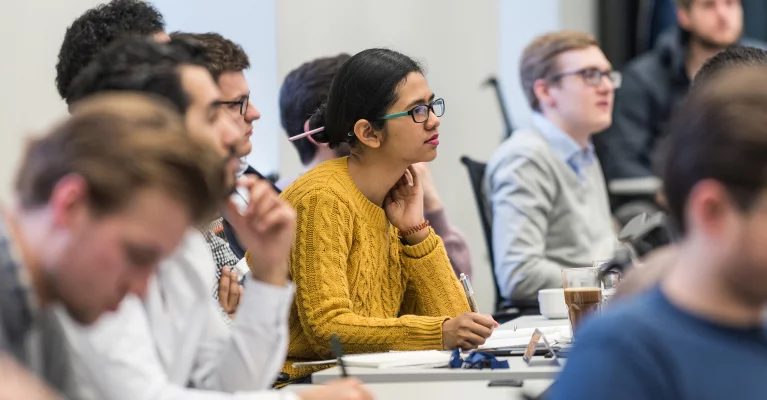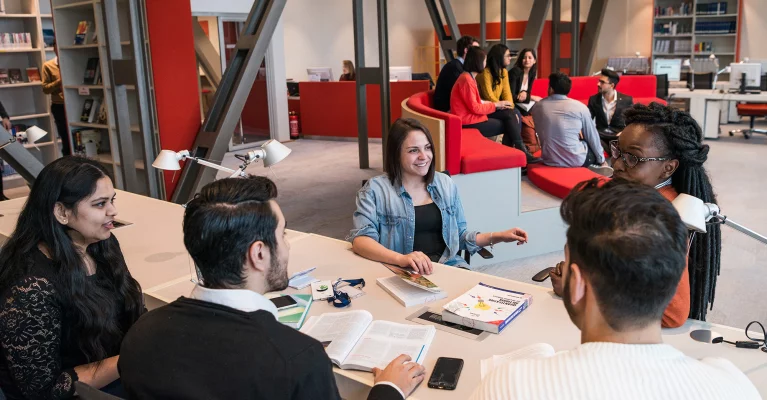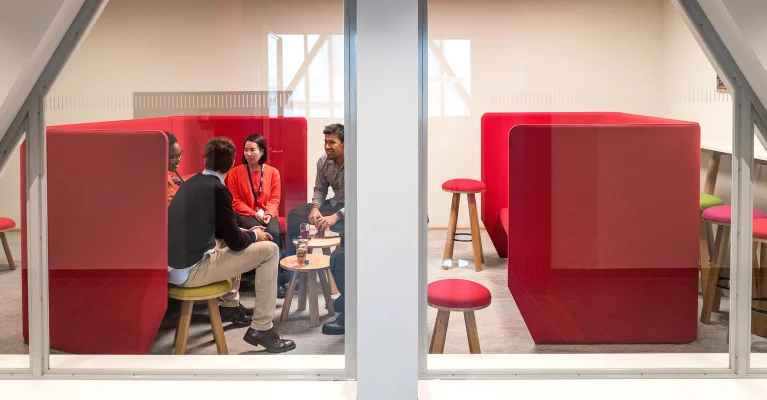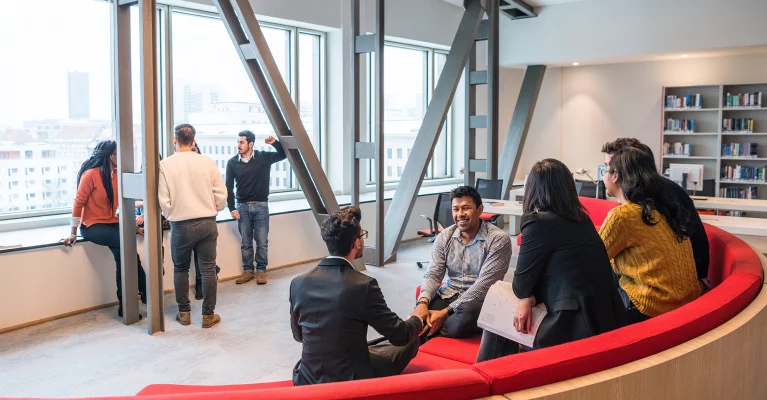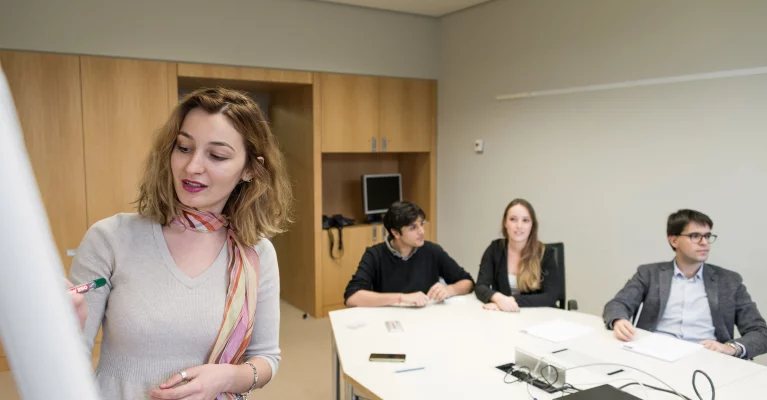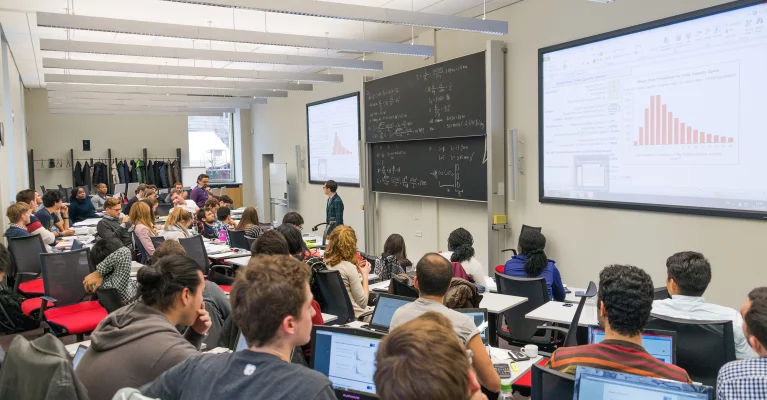 About ESMT Berlin
Inspired by the colorful communities of Berlin, ESMT's MIM will take you on an intense, two-year personal development journey as part of a diverse cohort of 30+ nationalities. During the first seven months, our world-class faculty will acquaint you with the most important concepts of business in a dynamic, digital world. You then embark on a three- to six-month internship, applying your new skills and giving you in-depth practical experience to complement your CV. In year two you will follow a track – Innovative Management or Quantitative Business – including courses such as Matchmakers in the digital economy and Machine learning and causality. You will close out your journey at ESMT by choosing electives from a range of topics such as finance, analytics, international strategy and entrepreneurship and participating in the Social Impact Project, a month long group consulting mission for a social cause of your choice. Parallel to the MIM program, you can choose to participate in the Portfolio Management Program where you will manage a real multi-million Euro investment portfolio or pursue an exchange at a top-ranked international partner school.
All students learn an additional foreign language: German for international students and a global language for students who speak German (such as Spanish, Chinese or Russian).
Students interested in investing can choose to participate in the Portfolio Management program, led by an international financial management firm. First year students are analysts and second year students are investors, with both groups actively managing a total portfolio of three million Euros.
While working on their Master's thesis, students have the opportunity of a second internship or may opt for working on a thesis topic in close coordination with a professor's own research agenda.
The Master in Global Management (MGM) program will begin in September 2023. Applications open on November 1, 2022.
The Master in Global Management program prepares you to take on leadership roles in companies and organizations operating in the globalized world of the 21st century. The curriculum focuses on the development of academic insights and practice-oriented skills that benefit those who thrive in diverse international teams and who aspire to leadership roles in general management or strategy consulting. You have the opportunity to do an internship abroad, spend a semester at other renowned international business schools, learn foreign languages, complete a social impact team project, and participate in the Portfolio Management Program, in which you actively manage a real-money portfolio, and obtain a certificate in finance.
In the Master in Innovation and Entrepreneurship, you as a future founder, intrapreneur or innovation consultant will receive the knowledge and network needed to drive the creation and transformation of companies. The centerpiece of the program is a 14-month development process accompanied by Vali Berlin, the entrepreneurship hub at ESMT Berlin. Highlights include the Ideation Bootcamp, the Summer Entrepreneurship Program that supports you to elaborate your own startup idea, the Corporate Entrepreneurship Program for you to develop venture ideas together with corporates, and the NEXT Acceleration Program, which supports your nascent venture to reach the next level in different areas. You can also choose to do an internship and a student consulting project focused on innovation.
The Master in Analytics and Artificial Intelligence prepares you for jobs as a digital innovation consultant, a data analytics team leader, and a technology change-maker. You will be exposed to a series of in-depth courses both from computer sciences and business, setting you up to become a leading agent of digital transformation by merging technological insight with commercial application. You gain exposure to business practice with a three- to six-month internship in a company working with advanced data applications and through an analytics consulting project mentored by a corporate partner.
ESMT Berlin is a private German business school founded by 25 multinational corporations. All ESMT programs benefit from close relationships with ESMT's corporate network and founders and its global network of alumni in over 40 countries.
As the most international business school in Germany, over 80% of ESMT's faculty members have a non-German background. ESMT is a state-accredited school, whose programs are also accredited by AACSB, AMBA, EQUIS and FIBAA. All degree programs are taught in English.
Programme Presentation
ESMT Berlin is ranked as the #1 business school in Germany and #7 in Europe by the Financial Times. ESMT is a private German business school founded by 25 multinational corporations. The school offers the following degree programs: Master in Management, Full-time MBA, Part-time blended MBA in business innovation, Global Online MBA, and an Executive MBA (EMBA) as well as executive education programs. The following 3 programs will begin in September 2023: Master in Global Management, Master in Innovation and Entrepreneurship, and Master in Analytics and Artificial Intelligence. All ESMT Berlin degree programs are taught in English and benefit from close relationships with the school's corporate network and founders and its global network of alumni in over 40 countries.
Programme Info
Programme Info
Type of Programme: Two year full-time Master's program
Language: English
Application deadlines: ESMT works on a rolling application basis and applications are reviewed upon completion during the application cycle. Notable deadlines, as a guide: March 31, (Early-bird with €2.000 tuition reduction), June 1 (non-EU applicants) or August 15 (Final deadline).
Starting date: September each year
Close
Student Body
Student Body
2021 class: 119 participants
Nationalities Represented:
34 (8% Americas, 8% Africa/Middle East, 33% Asia/Oceania, 51% Europe)

Average Age
23
Degree background:
Business/Management: 43%
Engineering: 23%
Economics: 10%
Other: 8%
Humanities: 6%
Accounting/Finance: 4%
Social/Political Science:4%
Natural Science:3%
Close
Admission Requirements
Admission
To apply, Master in Management candidates need to have:
A previous degree (at least Bachelor's equivalent). Applications will also be accepted from final-year undergraduate students awaiting completion of their degree.

In order to enroll in the Quantitative Business track:

Proof of strong quantitative abilities, whether with a degree in an analytical field (science, technology, engineering, or mathematics), quantitative economics, finance, or a similar subject
OR a degree in any discipline with a strong GMAT score (top 20% globally in the quantitative section). A GMAT or GRE is highly recommended for all applicants to this track.
The average GMAT score is 640. ESMT's GMAT code is H4D-SJ-86 or simply search for the school name. We also accept GRE scores, and our Designated Institution (DI) code is 7768.


In order to enroll in the Innovative Management track:

A degree in any discipline with excellent grades
GMAT or GRE is optional but may be requested in certain cases by the Admissions Team


Ideally no more than 18 months of postgraduate work experience (excl. internships)

TOEFL scores (95 minimum), PTE score (64 minimum), IELTS score (7 minimum) or other English proficiency test. ESMT Berlin accepts MyBest™ scores for the TOEFL iBT® test, in addition to TOEFL iBT scores from a single test date. The ESMT TOEFL institution code is 8707. If English is your native language or you earned a university degree exclusively taught in English you do not need to take an English proficiency test.

Completed application - including essays, one reference and €50 application fee

Individual interview over Skype
ESMT designed the Master in Management admissions process to find the most talented individuals who will benefit from the program's international and interdisciplinary nature. When evaluating applications, ESMT is looking for the following qualities:
International outlook, intercultural competency, and a responsible approach to business
Potential for high-performance career growth in a global environment
Willingness to learn from others, collegial behavior in high-stress situations
Excellent analytical problem solving abilities
The application form will ask you to fill-in the following information:
Basic personal data
Your academic and professional background
Short essay questions
Additionally, you will be asked to submit the following documents with your application:
Your CV
Transcripts to all higher education institutions attended
One recommendation (form provided by ESMT)
GRE/GMAT and TOEFL scores, if needed
ESMT cannot begin assessing your application until all of the above documents are received.
Procedure: Online application and interview on campus or online
Close
Read More
Costs
Costs
Full programme tuition: €29.500
Partial scholarships for outstanding candidates are available.
Other financing sources: savings or educational loans. ESMT applicants from Germany are eligible to apply for a loan at "Deutsche Bank", "Deutsche Bildung" or "Bildungsfond". International students can find options for loans and scholarships at the DAAD Website. ESMT is a member of the Prodigy Finance Loan program. ESMT Master's in Management (MIM) candidates from over 150 countries can aquire loans for MIM tuition. Candidates from the EU, USA and Canada can also apply for an innovative financing scheme with Brain Capital.
Close
Read More