University of Pittsburgh MBA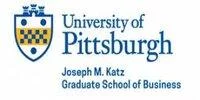 About University of Pittsburgh
As a global, AACSB-accredited institution, we offer MBA, Executive MBA, Doctorate, and master's programs in accounting, business analytics, finance, management, marketing, MIS, and supply chain management that are continually ranked among the world's best by independent publications. Led by our world-renowned faculty, our curriculum incorporates their groundbreaking research, entrepreneurial spirit, and emphasis on experience-based learning. As part of the University of Pittsburgh, our students and faculty enjoy an abundance of opportunities for cross-disciplinary collaboration. Our leadership network spans the globe: 33,000 alumni live in more than 90 countries. Through our Career Management Center, we build partnerships with leading companies and assist students in realizing their full career potential. We consider the City of Pittsburgh as more than our address; it defines us, as we share its spirit of resiliency and collaboration. Established in 1960, but with history dating to 1907, Katz is the first school to offer a one-year MBA (1963) and among the first to offer an Executive MBA (1972). We believe that success favors the agile, which is why we immerse students in real-world experiences so they graduate ready to build, lead, and contribute immediately.
Programme Presentation
At Katz, we believe two things to be universally true: Business never stops reinventing itself, and neither should you.
Programme Info
At Katz, we prepare our students to gain a broad introduction to their distinct business areas and develop the advanced technical skills sought by the world's leading organizations. We are deeply committed to preparing and mentoring the finest high-impact business leaders in the world. Our approach is designed to develop each student's personal brand based on his or her unique strengths and goals. 11 Credentials in 7 business disciplines and 18 specialized tracks. Katz offers the most adaptable, future-focused MBA program ever created. You'll develop a highly marketable, focused skill set necessary to compete in tomorrow's business environment. At Katz, we provide a strong, wide-based foundation in business fundamentals and empower you to tailor a program that builds on your unique strengths and goals.
Accelerated MBA
Highly focused and designed to offer you the fastest return on your investment, the Accelerated MBA program enables you to complete a Katz MBA in an accelerated 11-month format, reducing the time you spend away from the workforce
Signature MBA
A comprehensive study of all aspects of business operations, leadership development, and real-world experience, the full-time, Signature MBA program is more traditional, offering a comprehensive understanding of business operations with time for an internship experience.
Joint & Dual Degree MBA
A program designed for multiple focuses of study, our Joint and Dual Degree programs allows you to pair your MBA with a master's degree in law, engineering, information systems, international business, international development, public and international affairs, or public health.
Close
Read More
Student Body
The University of Pittsburgh is home to more than 2,900 international students—more than one half of whom are pursuing a graduate degree. At Katz, we value the experience, perspective, and diversity of thinking that you, as an international student, bring to our program.
Our class profile changes every year. Core countries represented in the classroom have included Brazil, Canada, China, Germany, India, Indonesia, Japan, South Korea, Taiwan, and the United States, to name just a few.
We also have a number of Exchange Programs through our partner schools:
Augsburg Executive Fellows Exchange Program
Kedge Business School Exchange Program
European Business School Exchange Program
With a Katz MBA you will be confident in your ability to tackle whatever business problems you come up against. You'll be more valuable to future employers, or perhaps you'll put your finely honed talents to work in starting your own business.
Collaboration
From the beginning, you'll notice a spirit of collaboration at Katz. Past MBA students have commented that the atmosphere isn't as competitive as it is collaborative. It comes from the school's commitment to globalism and diversity. From your very first team project, you'll recognize the benefits of a truly global business school because you'll be working in an environment that reflects the markets of the world.
Learn Hands-On at Katz
Hands-on, practical experiences outweigh book learning alone every time. Integrated learning is so important that it's one of the school's strategic initiatives and what we're referring to when we say, "Experience. Learn. Lead."
Close
Read More
Admission Requirements
Basic Requirements Applications must meet the following requirements before filling out an
online application
:
Four-Year Undergraduate Degree or Similar. Bachelor's degree from an accredited U.S. university, as determined by the Commission on Recognition of Postsecondary Accreditation, or the non-U.S. equivalent.
GMAT or GRE Test Results. Satisfactory GMAT or GRE results.
TOEFL or IELTS Test Results (international applicants). TOEFL (100 or higher), IELTS (7 or higher) or Duolingo English Test (105 or higher).
Application The following information and components are required to advance in the application process.
Online Application. Create your personal application account where you can start and save your work as needed.
You will also submit the following:
Application fee
Two recommendations
Essay responses
Current Résumé
Transcripts/Academic documents
Official GMAT or GRE scores
Official TOEFL, DET, or IELTS scores (international applicants)
Interview Process Applicants may be asked to participate in our evaluative process upon initial review by the MBA admissions committee. While not a strict requirement of every prospective candidate, evaluative interviews are conducted regularly. Shortly after you submit your online application, you may receive an e-mail invitation to register for an interview. Interviews can be conducted in person or via Zoom. Rolling Admissions Information The Admissions Committee reviews applications for the full-time MBA programs in rounds between October and June. The deadline dates and associated notification dates define each round. For you to be guaranteed consideration for a given round, we must receive your application and all component parts, including official exam scores, by the following deadline dates. The dates for the August start are:
Application Deadline
Decision Notification
October 1 December 15 December 1 February 15 February 1
(Deadline for scholarship consideration) April 15 April 1 May 15
Close
Read More
Costs
Acceleated MBA, Out of State (per term), Fall 2022 and Spring 2023
Tuition $27,427.00
Student Development Fee (Fall/Spring Only) $2,100.00
Activity Fee $30.00
Wellness Fee $255.00
Computing & Network $175.00
Security & Transportation $130.00
Total Per Term $30,117.00 Est. Total Tuition & Fees (3 Terms) $90,351
Signature MBA, Out of State (per term), Fall 2022 and Spring 2023
Tuition $26,089
Professional Development Fee $2,100
Activity Fee $30
Wellness Fee $255
Computing & Network Fee $175
Security & Transportation Fee $130
Total Per Term $28,779 Est. Total Tuition & Fees (3 Terms) $86,337
Close
Read More
Contacts
Joseph M. Katz
Mervis Hall
3950 Roberto Clemente Drive
Pittsburgh, PA 15260
412-648-1700
MBA@katz.pitt.edu
Close
Read More