George Washington University MBA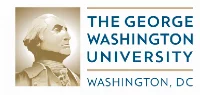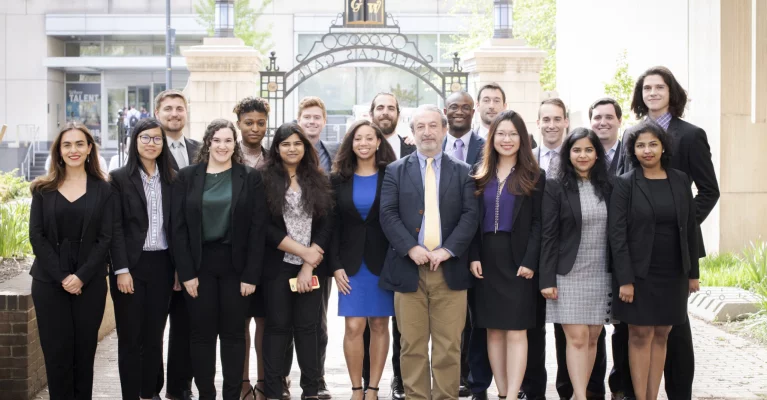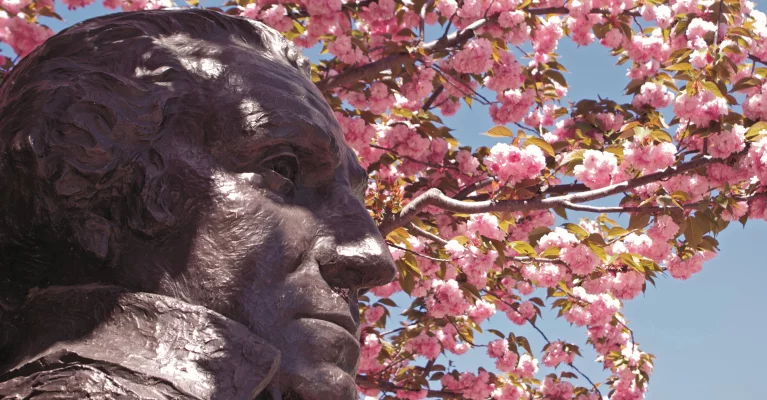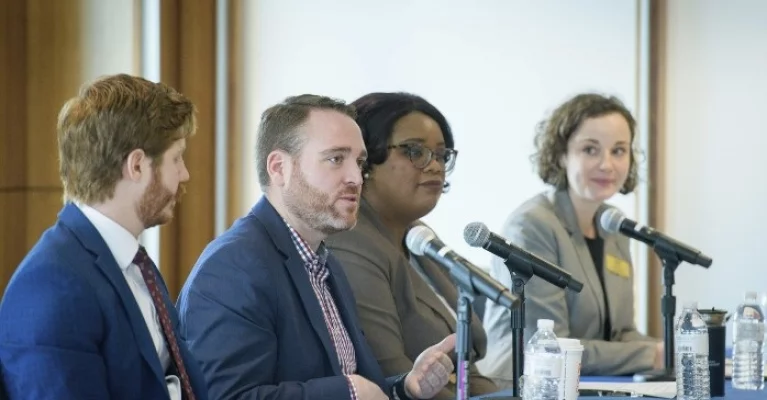 About George Washington University
At The George Washington University School of Business (GWSB), we believe there's a big difference between those who simply practice business and those who can create value; between those who strive to make a profit and a new generation of business leaders equipped with the innovation, imagination, and drive necessary to solve the global business challenges of our time. We embody this bold vision at GWSB. For 200 years, we have been preparing the business leaders who will not only thrive personally but also reshape the world in the Fourth Industrial Revolution. Because when you're situated in the heart of one of the top global capitals for policymaking and influence, you don't waste opportunities on small-scale ambitions.
By design, GWSB is a singular education created in the context of a thriving, highly supportive community. Here in Washington, D.C., we draw from the very best — from the federal government, private business, nonprofit, military, international firms, academia and more — to form a diverse and inclusive, truly global community dedicated to hands-on collaboration and a forward-thinking learning environment.
Download MBA Brochure
PROGRAM HIGHLIGHTS
STEM Designated Track
The George Washington University School of Business (GWSB) is proud to offer STEM-designated Global MBA degree and Accelerated MBA degree programs for Fall 2023. Our STEM-designated programs were created based on feedback from students and employers that desire job education outcomes that result in advanced knowledge of business management through technology. As the business environment evolves, students are much more interested in the intersection of technical and quantitative fields with the traditional business discipline. An additional benefit of the STEM-designated programs is that international students can qualify for extended Optional Practical Training (OPT) following graduation from their program.
Flexibility and Customization
GWSB provides exceptional opportunities for MBA students to customize their degrees through our flexible and stackable curriculum model. With upward of 15 credit hours of electives built into the curriculum, students are able to add certificates to their degrees, choose additional courses from over 200 electives offered at the School of Business, or take graduate-level classes offered through other GW schools or area universities. Students can also apply to add a second master's degree to their MBA through GW's many joint degree offerings.
Global and Experiential Education (G&EE)
Global and Experiential Education (G&EE) is the nexus for international opportunities and initiatives in the GW School of Business and supports global business education through a broad portfolio of global study programs, experiential education courses, and international student services including the Consulting Abroad Program (CAP), Short-term Programs, and Long-term Programs.
Our team facilitates approximately 20 graduate elective overseas short courses and manages 20 semester-based bilateral exchanges per annum. These programs are comprehensively and independently run within GWSB and present unique opportunities for students to add a global perspective to their GW degree.
Career Services
GWSB offers dedicated career support through our in-house career center which specializes in working with our business students.
The F. David Fowler Career Center's
mission is to support GWSB students and alumni in developing lifelong career management skills and building partnerships among students, alumni, employers, and faculty, resulting in rewarding and fulfilling careers.
MBA PROGRAMS
Global MBA - Full Time
The full-time, two-year Global MBA program provides rigorous training in traditional business skills. Students spend the first year taking required core courses in groups of 40-45 classmates, attending lectures, working on case studies and team projects, and participating in experiential learning opportunities. In the first year, most classes take place between Monday and Thursday with co-curricular activities happening throughout the fall and spring semesters.
Building on the foundation of the core curriculum, students in the second year of the Global MBA program focus on preparing for professional life after graduation. After spending the summer at an internship or studying abroad, students take elective courses focused on their areas of interest.
Accelerated MBA (AMBA) - Full Time
The AMBA program is designed to allow students to complete an MBA degree in two years and offers a STEM-designed track. For domestic studetns, the program is structured specifically for students that are employed.
The AMBA program is offered in a cohort format during the first year, which covers the majority of the core MBA curriculum. Those cohort courses are offered at a full-time credit load over the first year, allowing students to complete more credits in that first year than would normally be the case for a part-time student. This is accomplished by running those cohort courses in a condensed, five-week format. The courses run back-to-back, and they are held on Wednesday evenings (usually after 5:00 p.m.) and Saturdays (usually from 9:30 a.m. to 3:30 p.m.).
Other Programs
Professional MBA - Part Time

Online MBA - Part Time

Healthcare MBA - Online Part Time

MBA in Security Technology Transition (STT)- Domestic only, Part Time
* Students in the Global MBA and Professional MBA programs can choose from over 20 Graduate Certificates and 200-plus electives. And for healthcare professionals, we offer an Online Healthcare MBA focused on business practices in this rapidly changing industry.
Programme Presentation
Celebrating over 200 years of shaping future leaders, George Washington University continues to stand out by offering quality education through innovative programs which provide theoretical frameworks and real-world learning experiences. Engaging in rigorous scholarship that advances knowledge in the management of organizations in the global environment. Contributing as a local, national, and global citizen, we do all of this within a community built upon respect, integrity, and active engagement. Situated in the heart of Washington D.C. – mere blocks from the World Bank, IMF, and State Department – students at George Washington University can utilize the university's prime location.
Programme Info
Global MBA - Full Time
Quick Facts
Program Length: 21 months - 53 credit hours
Full-time, Washington, D.C. based program
Stem track
Required Consulting Abroad Practicum (CAP): Real-life, hands-on consulting experience abroad before you graduate from the Global MBA program.
Flexible- Add one of our 20+ Graduate Certificates
GMBA Runway - Prior to fall classes, Global MBA students spend their first three weeks on campus in "GMBA Runway". This orientation program of core coursework, team casework, speakers, and social activities introduces new students to the MBA experience
Application Deadlines
November 15 for fall 2023
Accelerated MBA - Full Time
Quick Facts
Program Length: 21 months- 46.5 credit hours
Full-time, Washington, D.C. based program
Stem Track
Program is offered in a cohort format during the first year where cohort courses are condensed into a five-week format.
Flexible- Add on one of our many Graduate Certificates
Application Deadlines
Career Preparation
Students work with the F. David Fowler Career Center throughout their first year to shape career goals and target companies of interest for summer internships and beyond. Resumes are edited and updated before the first day of classes, and students meet regularly with the Center's consultants to craft individual career management portfolios. Students also take advantage of the many opportunities to attend career fairs and participate in D.C. company tours and career treks to New York and San Francisco.
Our graduates have landed roles at a variety of companies that include Deloitte, Amazon, PwC, Bank of America, Microsoft, IBM, Johnson and Johnson, and USAID.
Close
Read More
Student Body
Student Body
Total graduate population: 1,600 students
67 countries represented within School of Business
57% women in our Global MBA
Average incoming class size: 65
Close
Admission Requirements
Application Requirements
GWSB employs a holistic review process for all MBA applications. The following documents will be required to apply:
Completed online application form
GMAT or GRE Score (optional for Fall 2023 but highly encouraged)
Transcripts from all education institutions attended
Resume
Personal Statement or Essay
Letter of Recommendation (1 professional)
In addition to the above requirements, international students are also required to provide the following documents:
English Language Proficiency Test
Close
Read More
Costs
Tuition
Global MBA*
$117,975 USD for entire 2-year program

Accelerated MBA*
$2,285 per credit hour
*Additional fees apply.
Scholarship Consideration: GWSB is committed to attracting highly qualified students from around the world. We demonstrate this commitment by considering all applicants for merit-based scholarships. No additional scholarship application is required to be considered for GW School of Business awards.
Close