Choosing to do an MBA can be the most exciting step in your professional career. An MBA can accelerate your career and open up executive opportunities. The immense value of the MBA means that most programmes are incredibly competitive and attract a large number of highly qualified candidates.
MBA consulting helps business school applications by assisting candidates through the application process. Using an MBA consulting service can vastly increase applicants' chances of admission and being awarded scholarship funding.
What is MBA consulting?
MBA consulting is a service for MBA applicants who are looking to give an edge to their business school application. MBA consulting helps business school applications by increasing an applicant's chance of making a successful application. Many of the top consulting services are staffed by former academics and admissions officers who have an in-depth insight into the admissions process. Some consultancy firms are staffed by a single person, but the explosion in demand for their services has meant that the number of consultants and the number of consultancy firms continues to grow.
Who uses MBA consulting services?
Figures show that over 50% of those applying to MBA programmes use an MBA consulting service to help their business school application. This is hardly surprising. With top business schools like Harvard changing their admissions criteria to include just one essay with no word limit (subject: "What else would you like us to know as we consider your candidacy?"), it is only natural that more and more people are finding that MBA consulting helps by guiding them through some of the vaguer and more abstract components of making a successful application.
Who provides MBA consulting services?
There are many options for those interested in using MBA consulting, ranging from boutique organisations to larger organisations that offer a range of packages. Large organisations have a diverse staff composed mainly of former admissions directors or MBA alumni. Services like these can be useful when considering applying to a diverse spread of business schools. Many firms will offer a package of help with three or more applications. Large organisations have the experience and contacts to make each application shine. There has been an immense growth in the number of boutique consulting services. Often started by a single admissions officer, boutique consulting services usually have a smaller number of consultants, but can offer a more specialised service.
Check out: How to Select an Admissions Consultant
What are the typical MBA consulting services?
MBA consulting services vary immensely. Many applicants start considering MBA consulting help when it comes to essay writing or interview preparation. When admissions essays range from a brief 400-word summation of your experience to Harvard's eerie call to tell them everything they need to know, with no word limit at all, help from an experienced professional is immensely useful, as applicants have just one shot to stand out in a field of thousands.
Broadly speaking, a consultancy service can help you with preparing each element of your application for admission – CV/resume, essays, selection of recommenders application form data, etc. Some companies offer only a comprehensive service, but the majority can help with single elements of the application and you can buy more as you go.
PrepAdviser Head of Admissions Consulting – Iliana Bobova, argues that what brings real value for the applicant is a comprehensive service. It ensures that the application package will be coherent and well-tailored to what the applicant can offer to each particular MBA programme. Consulting help for single elements – for example just the essays – leaves a lot of room for inconsistencies in other parts of the package and does not ensure the ultimate result of the application for admission.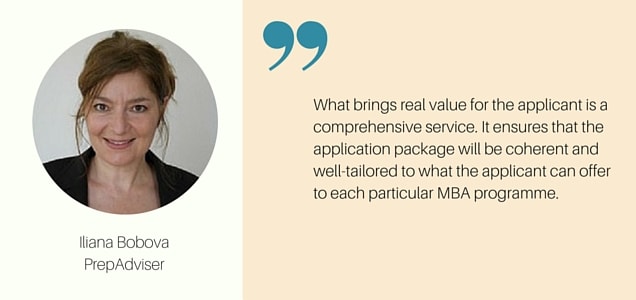 MBA consulting helps make individual applications stand out in a crowded field. Beyond this, consulting services offer mock interviews for applicants as well as advice on scholarship applications and other, more pastoral concerns.
In some cases, consulting companies also offer GMAT preparation to ensure your test score meets an MBA's rigorous requirements.
Check out: MBA Consulting Services Marketplace
Some consultants will even offer enrolment advice when applicants have to choose between several programmes to which they have been admitted.
A DING analysis for applicants on a waiting list or with a rejection letter can also bring high value and turn around a challenging application process into a happy-ending story.
Iliana Bobova from PrepAdviser also highlights that:
An MBA is usually a big step to career progression, so career advice before MBA application or upon graduation is essential.
Offering a large range of options tailored to your needs is how MBA consulting helps business school applications.
How can MBA consulting services improve applicants' chances of admission and scholarship awards?
Admission rates to top business schools are stubbornly low. Harvard accepted just 11% of applicants last year, whilst Stanford accepted a measly 6.1% of applicants. Put simply, MBA consulting helps by offering the experience of admissions advisors to increase applicants' chances of success. The proof is in the pudding. Stacy Blackman, of Stacy Blackman consulting, claims that she has a 97% success rate and has helped secure more than $2 million in scholarship funding. However successful individual applicants may be in their own careers, they are unlikely to have seen as many business school applications as an admissions advisor. Blackman says that consultants have seen so many applications and have a solid understanding of what does and does not resonate with an admissions committee.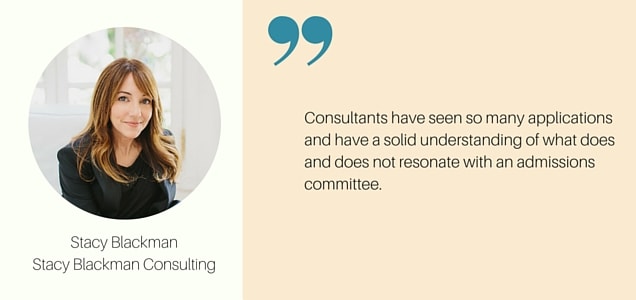 Consultants can act as simply a second pair of eyes to look over your application and avoid any embarrassing copy mistakes that are likely to send an applicant to the bottom of the pile. For those who purchase more extensive services, consultants can act like a coach, looking at the applicant as a whole and advising them on which skills to accentuate and which attributes to play down.  Anne Tammel of MBA Expertise says:
Consultants are able to translate your unique selling points, your drawbacks [and] the reasons your application presents an edge over your competition.
Here is how Travis Morgan, Veritas Prep's Director of Admissions Consulting, describes their approach: "We like to compare an admissions consultant to a coach in sports. Do you need a coach to play sports? Of course not, but among the most competitive ranks a top coach enables each player to achieve his or her greatest potential."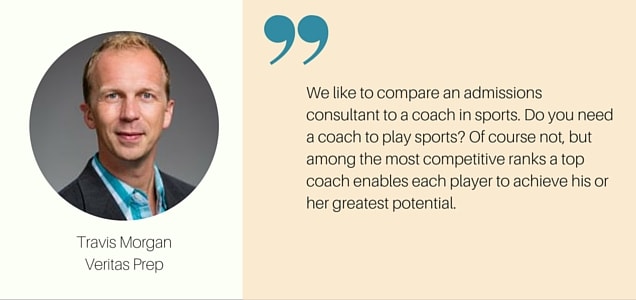 An applicant will rarely complete an MBA application more than once or twice in their life. When MBAs offer such life-changing opportunities, it is scarcely any wonder that so many applicants are turning to MBA consultants to fine-tune their applications. With as many as 53% of business school applicants now using consultancy services, it is likely that their popularity will continue to grow as it becomes an ever more necessary part of getting into business school.