Developed specifically as an admission test for business schools, the GMAT exam has been evolving over its 65-year history to better assess candidates' potential for success in B-school. The initial version of the GMAT contained just Quantitative and Verbal Reasoning sections. In 1994, the Analytical Writing Assessment (AWA) section (which contained two types of essays) was added to the GMAT to help schools assess candidates' writing abilities. In 1997, the exam was transformed from a pen and paper test to the computer-adaptive (CAT) format that ensures a more precise evaluation of the level of the skills tested, based on an intricate scoring methodology that selects questions based on the answers to previous questions. In 2012, one of the two essays was replaced with a new section – Integrated Reasoning (IR) – that evaluates a candidate's ability to synthesise and analyse data from multiple sources and in different formats to solve complex problems.
Following the recent change, candidates can choose the order of the four sections of the exam. You can now start with the Essay (as in the "traditional" GMAT format), the Verbal, or the Quant section. This change provides greater flexibility to test takers and enables candidates who are challenged by the Quant or Verbal sections to potentially improve their scores by starting the test with a "harder" section, while they are fresher.
Before you can decide what strategy would work best for you, however, a thorough understanding of the essence of the test is a must.
Check out: How to Select a GMAT Preparation Course
So what is the GMAT all about?
GMAT is unlike almost any other test you have ever taken. Most exams test your knowledge of specific content, such as Maths, English, or Chemistry. Even during your professional life, you may have taken certification exams that evaluate your understanding of a certain Body of Knowledge. GMAT is an admission test for graduate-level business and management programmes, so you might be forgiven for thinking that this exam measures how well you know business. Then, if you looked at the exam structure (the GMAT consists of an Essay, as well as Quantitative, Verbal and Integrated Reasoning sections), you may have thought that the GMAT is an exam of Maths and English language…
Both of these misconceptions are quite far from the truth. Here is an excerpt from the official GMAT brochure:
Rather than testing your knowledge of business or any other subject matter, the GMAT exam measures higher-order reasoning skills – skills that matter in management classrooms and in the 21st century global workplace.
The creators of the test have said it themselves: the GMAT is a test of skills, rather than knowledge – yet most candidates completely miss this fact! Even if they do not, many of them still focus on trying to memorise a vast amount of content instead of developing the skill set that will not only help them reach a 700+ score, but will also be invaluable for their MBA studies and for their future careers.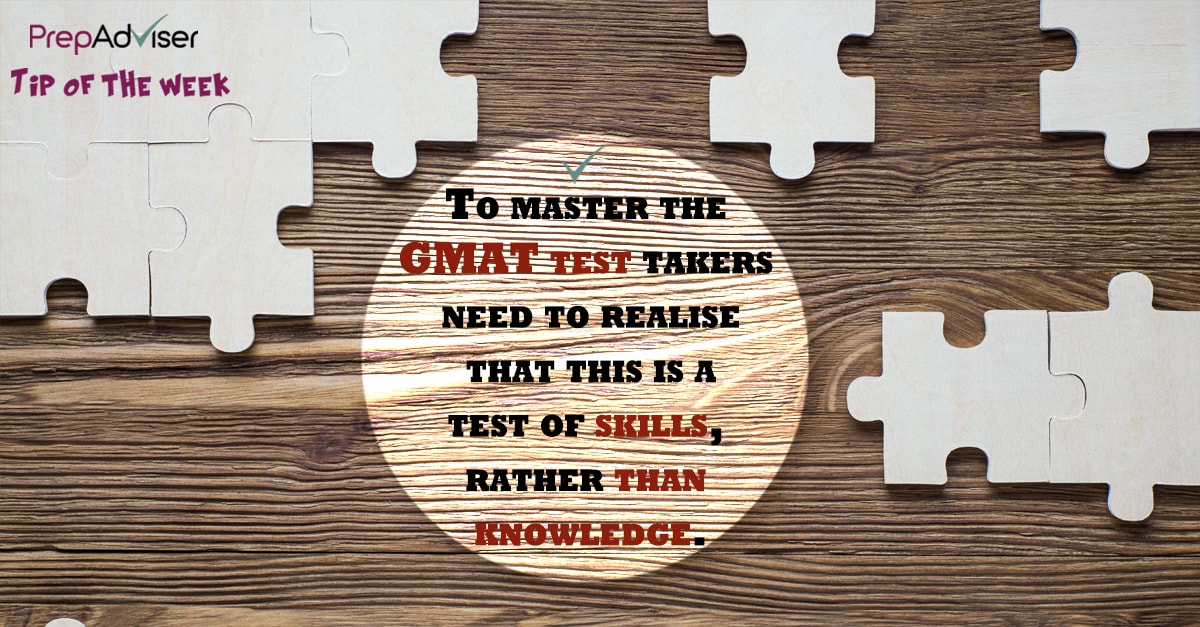 What skills does the GMAT actually test?
You already know by now that the GMAT measures advanced reasoning skills that are relevant to your success in a business school and beyond. Moreover, because the GMAT is the only standardised way for admissions committees to evaluate candidates from different backgrounds, business schools look at GMAT scores very seriously. Your GMAT results will help MBA admissions committees assess how well-developed your skills are and, therefore, how likely you are to be successful in the MBA programme.
At Admit Master, we strongly believe in the long-term value of skills development. All our GMAT courses (available in person in Canada and the United States, and online globally) follow a skills-based approach. We call the skills tested on the GMAT "Thinking like a CEO". If you're able to analyse and synthesise information, ask the right questions, make the right decisions, and manage your time well, you will not only do well in the GMAT, but will also be a valued candidate for future employers after graduation. After all, if you want to become a CEO, you should first learn how to think like one!
Check out: The 10 Best Ways to Effective GMAT Preparation
Why do so many people try to master the GMAT by memorising content?
Mastering skills instead of memorising content not only takes longer, but is also an unfamiliar way to study for most people. As you may remember, most exams you have ever taken required you to memorise very many concepts, so this is how most of us are used to studying.
Unfortunately, many GMAT preparation resources and even some GMAT prep courses offer "content-based curriculums" that are designed for the memorisation style of learning, because this is what most people can easily relate to. While these resources may cover the GMAT content in great detail, they often fall short in helping students develop the higher-order reasoning skills that will help them achieve the "gold standard" score of 700+ (on a 200-800 scoring scale). As a result, the average GMAT test taker will score around 550 – certainly limiting their chances of admission to top-tier business schools.
Moreover, developing skills takes time and effort. Many people see slow progress and become discouraged, or may even give up. However, if you stick with the process of building the right skills, if you focus on understanding the big concepts and their applications for the test, and if you get the right support and coaching, you could achieve remarkable results, as many of our students do.
Getting a 700+ GMAT score requires a heavy investment of time and effort. Is it worth it?
When we meet new candidates and ask what score they would like to get in the GMAT, we often hear: 700! So why is getting a high score in the GMAT so important? Indeed, there is great value in doing well in the GMAT. A high GMAT score will help you:
Demonstrate that you have developed a skill set for success in business school and in managerial roles.
Meet the admissions requirements of a large number of reputable MBA programmes globally.
Qualify for higher entrance merit-based scholarships that will consequently boost your ROI and free up your resources for new business ventures.
Have a better chance of landing a job in a competitive industry, because recruiters in these industries consider GMAT scores when filtering top candidates.
Signal that you are a top candidate committed to exceeding expectations with persistence and dedication.
We at Admit Master strongly believe that anyone can achieve a high score, and many of our clients do, although statistically only 10% of candidates score 700 or more. Achieving a high score on the GMAT requires not only knowledge of rules and formulas, but also a deeper understanding of the test, as well as commitment to developing the skill set for success in business school and beyond. The GMAT is not just an admission test – it is a learning opportunity that prepares you for success.